Vol 37 | Num 10 | Jul 4, 2012

Article by Pat Schrawder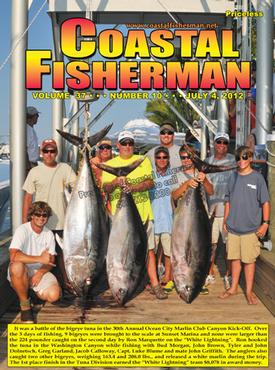 CHIRPING IS NO LONGER JUST FOR BIRDS

Many of today's new fish finders incorporate the use of CHIRP technology and you may see the unit listed as CHIRP compatible or featuring CHIRP, but just what is it and why would you want it?

All fish finders are actually at least a two-part system. You must have the main unit transceiver and a display which could be combined into one unit or made as two separate units. You also must have a transducer mounted on the boat bottom either on the transom or through the hull or, in some cases, sitting inside the hull. These transducers are the critical part of the system that sends and receives the signals from the main unit which ultimately show up on your display screen as fish, bottom, wrecks, thermo clines, etc. Traditional transducers operate at mostly 50 or 200 kHz and transmit pulses of relatively short duration.

The CHIRP (Compressed Hi-intensity Radar Pulse) broadband transducers sweep a pattern of many frequencies in the range of 28 kHz to 210 kHz and their pulses are of longer duration. With all these frequencies sweeping in rapid succession, targets are detected in the entire beam width instead of just what is identified in the 50 or 200 kHz range. One major result is that the sound energy transmits 10 to 10,000 times greater than the conventional transducers. The company making these CHIRP broadband transducers is Air Mar, a well known manufacturer who makes most of the conventional transducers used today. These new CHIRP transducers utilize Air Mar's exclusive Transducer ID® new piezoceramic elements. The Transducer ID® feature measures and then stores the operating specs for each transducer which, in turn, enables the transducer to configure itself automatically to the transducer being used. Air Mar manufactures a total of 24 models of these in 7 different mounting options.

However, not every fish finder is capable of using a CHIRP transducer. The main unit must use DSP (Digital Signal Processing) and must indicate that it can use a CHIRP transducer. Your unit may already come with one, but it is a good thing to check at the point of purchase to see if that is the case, or if one can be ordered to go with your unit. At this writing, I understand Garmin and Simrad are the only two manufacturers using it, but others are on the way. Furuno, for example, has announced that it will have a model available in late 2012. If this feature really catches on, you can expect almost all units to start advertising the capability of CHIRP.

According to Air Mar, CHIRP technology results in 5 to 10 times greater detail and resolution, 10 to 10,000 times more energy on targets, precise separation between baitfish and game fish, superior performance in noisy environments and improved bottom tracking at high boat speeds. This improved performance is due in part to something called the "Q" value which measures the rise and fall times of target echoes. Conventional transducers have a "Q" value of 25-30 whereas CHIRP units have a "Q' value of 1.6 to 30. The lower the "Q" value, the better the performance when it comes to fish separation and bottom imaging, especially in fast changing water depths.

As you can see, the transducer is the key to this system. Having a DSP fish finder will do you no good unless you pair it with a CHIRP transducer. These transducers physically look the same as the conventional ones but they range in price from around $600 to almost $1500, so they will not fit everyone's budget. As they become more popular, you could reasonably expect the prices to drop somewhat.

Broadband seems to be the new thing that is generating a lot of interest this season and so we see it here in select fish finder/transducer models. Broadband is also being used in some radar dome units and is being advertised also as having superior signal detecting especially at close range. Expect to see and hear more about this as time goes by.

Pat and her husband, Larry are owners of L&L Marine Electronics on Golf Course Road in West Ocean City, MD.