Vol 37 | Num 10 | Jul 4, 2012

Article by Larry Jock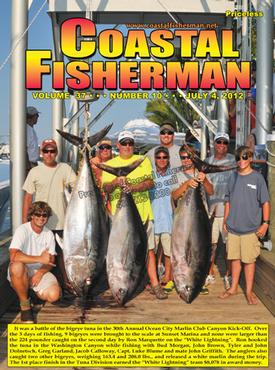 There is a lot of good fishing going on right now from Lewes down to the Fenwick line. Inshore anglers are really whacking the flatties and offshore anglers have their hands full with tuna, dolphin and marlin.

Flounder

There were good numbers of flounder caught last week, both by anglers drifting the bays and canals and by those venturing off the beach.

Joe Morris at Lewes Harbour Marina said that the ocean flounder bite was quite good. Numerous flatfish were caught on open bottom surrounding "DB" Buoy, and on the Old Grounds between there and "DA" Buoy. The artificial structure of Reef Sites 9 and 10, and nearby wrecks also gave up plenty of flatties. Boaters drifting squid, mackerel and other cut offerings, along with minnows, smelts and shiners on fluke killers had success. Bucktail jigs tipped with Gulp! or natural cut baits were also very effective. Those jigging on inshore structure had good luck with fluke killer rigs set-up with long leadered hooks placed a foot above a Spro bucktail. Anglers reported the bites split evenly between both hooks.
There were also good bites on Delaware Bay reefs and near the Ferry Jetty. Joe at Whitetail Taxidermy & Outdoor Supplies and Bert at Hook'em & Cook'em both reported an excellent flounder bite in the Indian River Inlet throughout the week. The action did die out on Saturday afternoon and Sunday morning, but picked up again in the afternoon highlighted by an 8 pounder caught from the rail. The key to the Indian River Inlet bite was moving water and fishing close to the rocks, according to Bert.

Joe also mentioned good flattie bites at the VFW?Slough and at Massey's Ditch. There were also reports of flounder being caught in the Ditch next to Harpoon Hanna's, where a couple of 5 pounders were decked.

Triggerfish / Sheepshead

Paul at Rick's Bait & Tackle said that anglers fishing the Inner and Outer Walls of Lewes were rewarded with good catches of triggerfish and sheepshead. The best bites came while using sand fleas and clam for bait.

Sea Bass

The good news is that the high throwback ratio that has plagued anglers over the last month improved greatly last week. The bad news is that the number of bass being caught decreased. Bert at Hook'em & Cook'em said that with sea bass spawning, the bite has slowed, but most of those that are being caught are big enough to keep. The Old Grounds, as well as Site 10, have given up generous amounts of sea bass, according to Paul at Rick's Bait & Tackle.

Bluefish

Small bluefish were caught during the incoming tide in the Indian River Inlet on cut bait and metal jigs. Anglers also found bluefish in the 14-inch range on Fenwick Shoal.

Striped Bass

The striped bass summer slot season opened on July 1st in Delaware waters. Only the Delaware River, Delaware Bay and their tributaries are effected. The season runs through August 31st and anglers may keep 2 fish between 20 and 28-inches. These regulations do not apply to coastal waters, the Indian River Inlet or inland bays where the regulations remain at 2 fish per person, 28-inches or larger.

Joe at Lewes Harbour Marina reported good fishing in the Lewes Canal and Broadkill River for slot stripers by anglers casting lures around the drawbridge or along bulkheads, docks and marsh banks with Storm shads, Rat-L-Traps and 8-inch Gulp! eels. Those fishing with natural baits on bottom rigs did well with clams, bunker, squid heads or live eels.

Anglers fishing with Tsunami lures at the Inner Wall got into a good striper bite and walked away with 7 keepers between 30 and 39-inches.

Weakfish

Anglers drifting and trolling on Fenwick Shoal over the weekend hooked into some small weakfish. There were also a few caught during the early morning hours in the Indian River Inlet.

In the Surf

We are seeing the typical summer offerings in the surf. Anglers are catching kingfish on bloodworms, small bluefish on cut bait and at night, crazy kayakers are paddling their baits off the beach and hooking up with big tiger sharks.

Offshore

Offshore anglers were busy chasing yellowfin tuna, bluefin tuna, dolphin and big eye tuna last week. Although there were quite a few eyeballs landed by Ocean City boats in the Washington Canyon, we didn't see the numbers show up on the docks in Delaware. Joe Fenstermaker on the "Hearts and Diamonds" did catch a 76 pounder at the Hot Dog while trolling ballyhoo.

Those trolling ballyhoo and artificial lures at the Tea Cup between the Hot Dog and Baltimore Canyon got into good numbers of yellowfin tuna with a few bluefins mixed in. Some boats chunking butterfish were also rewarded with tuna at the Hot Dog.
Dolphin are also being caught in decent numbers by anglers chasing tuna, and the good news is that there is a noticeable increase in their average size.

The first white marlin out of Lewes Harbour was released by Adam Bellen while fishing on the "Quintessa".

Upcoming Tournament

The 4th Annual Pier Point Marina Flounder Tournament starts on July 7th and runs until August 11. For more information, call 302-227-2808.

Until next week, tight lines!