Vol 37 | Num 10 | Jul 4, 2012

Article by Capt. Mark Sampson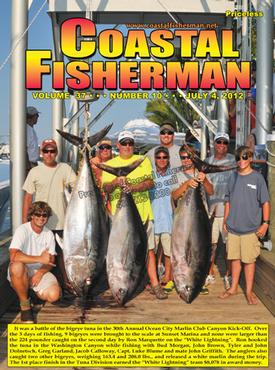 I don't have to tell anyone what a great tool the internet is for finding information on just about anything. No matter what the topic, "Google it" and in a flash you'll have 10-thousand sources of information about whatever it is you're researching. And what a great tool for us fishermen; you want to learn how to sharpen a hook, clean a particular fish, or replace an outboard's water pump? It's all there and a whole lot more!

While it's great to get "good" information, it's the "whole lot more" part of the search results that can be very problematic for those who aren't able to sort out fact from fiction. And as easy as it is for anyone with a computer and a connection to get their words published on the web these days, it seems there's just so much fiction out there that it's more than just a little bit difficult to find the truth about anything. I'm talking about stories like the one about the huge great white shark that was caught off Sandy Point State Park a few winters ago by a commercial fishing boat that was towed backwards for three hours. The accompanying photo turned out to actually be of a large mako that was caught somewhere off Nova Scotia. Funny how those internet stories and photos go. I recently saw a picture of "the worlds largest potato" which totally covered an 18-wheeler flat-bed. I wonder how many French fries you could get out of that spud!

I'd guess that those two hoaxes were fabricated merely for fun, and I doubt anyone who might have fallen for either ruse had their life turned upside-down by it, except maybe for the few folks that opted out of doing the Annual Sandy Point Polar Bear Plunge because they didn't want to deal with both hypothermia and a shark attack on the same day, or Mrs. Gertrude Pinefat from Kansas who thought that it was "she" who had the largest potato in the world on a shelf in her root cellar right next to the jars of pickled beets.

When anglers do searches for anything about fishing, it's likely that among the results will be links to any of a number of message boards that are tied-in to some of the more popular web forums such as Atlantic Anglers, Tidal Fish, and Sportfishermen.com, all of which are quite popular among fishermen in our region. These sites are not only great sources of information about all kinds of fishing and boating products, charter and guide services and classifieds, they are also a great way to hear straight from the horse's mouth exactly who has been catching what, where, and how. Because anglers can narrow their searches down to a particular type of fishing (like "tuna") in a certain area (such as Ocean City) they can get reports from fishermen sometimes just hours after their trips. Since postings are dated, readers know the freshness of each report and can even scroll back through time to see what they missed last month when they drove out to Kansas to see the world's 2nd largest potato.

But as good as the message boards, forums, threads or whatever you wish to call them are for the fishermen who choose to use them, they have an inherent flaw that everyone has to watch out for. Since the postings are made by almost anyone who has registered with the site, it's not unheard of to have someone spouting off as if they were experts on whatever it is the subject matter happens to be that day, but actually have no idea what they're talking about. Though I personally choose to be more of a forum "reader" than a "poster," some of what I've read tempts me to jump in and set someone straight who is obviously way off track on whatever they're blabbing about, but I resist the urge because I've found that a lot of folks don't like to be corrected publicly and I'm not inclined to get into an online argument with someone I don't even know. There are some very knowledgeable fishermen who make regular posts to fishing forums - then there are the rest of them!
Which brings us to another down-side to online forums and that's the issue of "anonymity." Though some posters do indeed use their real name as their screen name, most seem to instead be recognized by something they made-up along the way. So if you read a post by "Fishwacker22" or "Hawghooker" you really don't know if the fishing tip or report is coming from the guy in the boat-slip next to yours or some 14-year-old girl in Iowa. Which of course is a problem that plagues the internet as a whole; anyone with just a little computer savvy can always find a way to get whatever message they're trying to convey published somewhere and not worry at all about neighbors, friends, or family knowing that it was actually they who started the buzz about the 44-foot potato!

So I guess the moral of my story is that just like anything we find on the internet these days, even fishing forums need to be taken with a grain of salt and maybe even with a little skepticism. Particularly if some guy with a screen name like "Justafooln-U" posts that the great whites are hitting white bucktails on the incoming tide at the west side of the Bay Bridge.

Captain Mark Sampson is an outdoor writer and captain of the charter boat "Fish Finder", docked at the Ocean City Fishing Center.