Vol 37 | Num 10 | Jul 4, 2012

Article by Julie Ball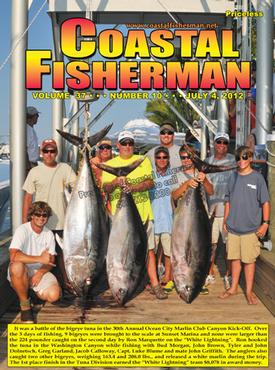 As we reach the Independence Day Holiday, the fishing trend is transitioning into mid-summer mode. Many species are available, so the holiday should provide some notable catches.

The flounder action rebounded again last week, with good catches coming from most of the usual flounder spots around the lower Bay. A nice class of flatfish, with many ranging to over 22-inches, and a few doormats pushing to over 7-pounds, are keeping flounder anglers content. The bigger fish are falling for live bait presented near structure, and 2-ounce jig heads adorned with plastics or Gulps are working well for jigging around the rocks and pilings.

Keith Cole of Virginia Beach enticed a huge 12-pound doormat while working these areas with live bait last week. Strip baits are also producing some decent fish drifting on the outgoing tide, especially near the 1st Island of the CBBT. Good hauls came in from within Rudee Inlet last week, where anglers lined the rails to get in on the action.

Cobia action was still good last week, but lots of smaller fish are stealing the scene since the rain the previous week. Sight casters are still working hard for their fish, while chummers were having better luck last week with a few fish pushing to over 50-pounds. Boats that offered chum slicks across the Inner Middle grounds and Latimer Shoal areas found the best results on cut bait. Those working the Nine-foot and Nautilus shoals also found a mix of red drum and sharks among the cobia.

Red drum are also spreading out into the lower Bay providing incidental by-catches for those bottom fishing around the Bay Bridge Tunnel, and even pier fishing at the 1st Island.
The Spanish mackerel scene is hot right now. Folks trolling the Virginia Beach shorelines are finding good limits of big Spanish mackerel and a smattering of Tailor bluefish. Small silver and gold spoons weighted with in-line sinkers or planers will do the trick while trolled in anywhere from 18 to 30 feet of water from Cape Henry to Sandbridge.

Black tip sharks ranging from 2 to 4-feet long are also providing some good action for anglers chumming around 2-miles off the oceanfront area.

Spadefish are pretty much everywhere right now. The Chesapeake Light Tower and Reef along with the CBBT are giving up good numbers of decent fish, with a few exceeding 7-pounds.

Sheepshead anglers are finding takers along the entire span of the CBBT using crab, fiddlers and clams. Lots of patience is the secret to a successful sheep trip. A good showing of nice triggerfish in the same areas and on many inshore wrecks is also keeping things interesting.

Spot are available in both the Rudee and Lynnhaven Inlets, and croaker are an easy target throughout the lower Bay. Some hardheads are pushing to 1.5-pounds near the Bay Bridge Tunnel and the Cell. Croaker also made their debut in the back waters of Oyster, where tarpon sightings also continue to taunt anglers.

Amberjack are a good bet at the southern towers and some offshore wrecks such as the Triangles and the Ricks and Hanks wrecks. Live bait is working well, while jigs are also a good alternative.

Deep droppers are still finding plenty of nice tilefish, wreckfish, and blackbelly rosefish in deeper water near the Norfolk Canyon. Some nice sea bass are available on many local wrecks as well as scattered among catches of blueline tilefish in deeper water.
The offshore season is offering great options right now with yellowfin tuna action at the top of the list. Plenty of yellowfin ranging up to 65-pounds, along with some tackle-busting bigeye tuna are making it a great season so far. Bluefin tuna are also adding to the menu. Some nice gaffer dolphin and wahoo are also around. A 122-pound wahoo caught last weekend is now pending as the new state record. The massive fish was boated aboard the "Teaser" out of Wachapreague by angler Susan Nelson of Whiteford, MD.

Dr. Julie Ball is the I.G.F.A representative for Virginia Beach. For more information, go to www.drjball.com.