Vol 43 | Num 11 | Jul 11, 2018

Article by Larry Jock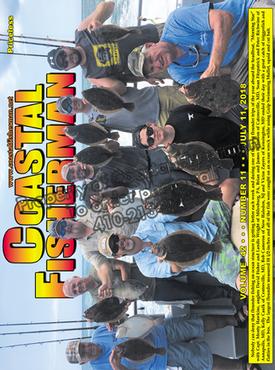 This past weekend was a 99% blowout. The storms started rolling through on Friday afternoon and the weekend was cooler and windy. Offshore boats stayed at the dock, a few headboats stayed closer to shore and bay and inlet anglers just had to deal with the wind.

Before the weekend, anglers had to be happy with what they were seeing. Canal, bay and inlet anglers were kept busy with an improved flounder bite, inshore boats saw more flatties on structure and offshore boats found slower tuna fishing but improved marlin and mahi fishing.

At the Hook'em & Cook'em Tackle Shop in the Indian River Marina and Hook'em & Cook'em Outdoors in South Bethany, Capt. Bert Adams reported a good flounder bite in the Indian River Inlet on Sunday morning between the Handicap Pier and the Inlet. Bert said that a couple of his regulars caught their limits of flatties (a rare occurrence) that measured between 17 and 20-inches. The most productive bait was 5-inch white Gulp Swimming Mullet. Anglers fishing in the inlet also found small croakers interested in their offerings of Fishbites artificial baits. While most use the blooodworm flavored Fishbite, Bert said that hardheads absolutely destroy the clam flavored ones.

There was also at least one weakfish caught in the inlet on Sunday and a few stripers as well on Friday night and Saturday morning. The linesiders measured 32 and 35-inches.

Not much has been happening in the back bays except for a lot of small flounder being caught, but Bert said that he wouldn't be surprised if more keeper flounder were captured this week after the batch that came through the Indian River Inlet late last week.

In the suds, surfcasters continue to deal with sharks and skates along with a few kingfish.

The shoals off lower Delaware, especially Fenwick Shoal and Isle of Wight Shoal, produced catches of both king and Spanish mackerel in addition to snapper bluefish. Headboats are finding better flounder fishing 8 to 12 miles off the beach. Capt. Chris Adams said that long strips of squid seemed to produce better bites than other strip or cut baits. Anglers are still finding a mediocre sea bass bite on ocean structure, but are encountering big sea robins looking for cut bait.
Offshore, the boats out of Indian River saw the tuna bite slow down last week but a good marlin bite, both white and blue, developed in the Washington Canyon where anglers also found increased numbers of mahi. Most of the tuna action was around the 800/800 with a few bigeyes and nice size yellowfins returning to the scales.

Matt Shoup at Fenwick Tackle said that his customers who were fishing off the beach in Fenwick were catching kingfish, sharks, rays and some snapper bluefish. He also heard that a few croaker were caught in the surf off Bethany last week.

Anglers fishing in the Fenwick Ditch are catching stripers while using eels for bait. The linesiders are measuring up to 25-inches. Matt also said that he heard rumors about some croakers in The Ditch as well, but hasn't confirmed it.

At Lewes Harbour Marina, Capt. Tommy said that flounder are finally being caught in good numbers in the Lewes Canal, but anglers have had to be patient and weed through a lot of throwbacks to get their keepers. The flounder are a nice size, measuring in the 20 to 24-inch range, and have been hitting glow-in-the-dark Gulp baits in addition to long strip baits (see Capt. Chris Adams' comment earlier). Anglers in the Lewes Canal are also seeing a good number of slot stripers, in the 20 to 25-inch range. Right now, Delaware anglers are fortunate to have a slot season for striped bass with 20 to 25-inchers allowed to be caught and kept between July 1 and August 3 in the Delaware River, Delaware Bay and their tributaries.

Those fishing around the Cape Henlopen Pier are catching croakers, snapper bluefish and flounder while those hitting the Delaware Bay reef sites are adding kingfish and some weakfish to the mix.

Inshore, primarily on the Old Grounds, we are seeing the normal summertime ramp-up of flounder fishing in addition to a few sea bass and triggerfish ending up in coolers. For flatties on ocean structure, Spro bucktails tipped with long strip baits has always been a top producer, but 6-inch Gulp Swimming Mullets have also worked extremely well.

Until next week, have fun and tight lines.