Vol 37 | Winter Issue | Jan 1, 2012

Article by Mama Jock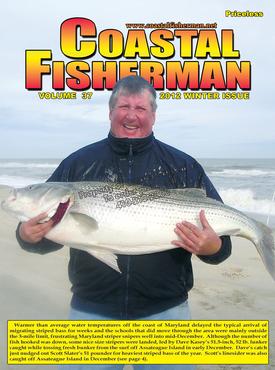 Poached Black Sea Bass

2 lbs. black sea bass
1 medium onion, sliced
2 stalks celery, including tops, cut into strips
2 carrots, cut into strips
1/4 tsp. pepper
2 tsp. salt
Water, just barely cover

Place fish in a single layer in shallow fry pan.
Add vegetables and seasonings, then add the water, barely covering the bass.
Bring to a boil; cover and simmer slowly until fish flakes easily with fork, 5 to 10 minutes. Be careful not to overcook.
Serves 6.

Lemon and Panko Crusted Broiled Tautog

1 lemon
2 TBSP. butter, melted
4 (6 oz.) tautog fillets
1/4 tsp. salt
1/4 tsp. pepper
1 cup panko bread crumbs
Cooking spray
Lemon wedges

Preheat broiler.
Grate 1 tsp. rind from lemon; squeeze 1 tsp. of juice from lemon over a bowl.
Add butter and rind to juice; stir well.
Brush both sides of fish with the lemon butter; sprinkle evenly with salt and pepper and dredge in the panko crumbs.
Place fish on a broiler pan coated with cooking spray.
Broil 7 minutes or until flakes easily when tested with a fork.
Serve with lemon wedges.
Serves 4.

Easy Grilled Bluefish

1 to 2 lbs. bluefish
1 packet Liptons Herb and Garlic Sauce Mix
1 TBSP. white wine
1 TBSP. olive oil
1/4 cup water

Mix herb and garlic sauce mix, wine, oil and water.
Marinate the fish in mixture 20 minutes.
Wrap the bluefish in aluminum foil and grill or bake at 375 degrees for about 20 minutes.
Serves 6.

Striped Bass, Bluefish and Flounder Gumbo

1 1/2 TBSP. cooking oil
1 cup onion, chopped
1 cup green pepper, chopped
2 cloves garlic, minced
2 cups beef broth
1 can (16 oz.) tomatoes or 2 cups fresh tomatoes, chopped
1/2 tsp. salt
1/2 tsp. thyme
1/2 tsp. red pepper or several drops of hot sauce
1/2 tsp. oregano, crushed
12 oz. skinned and cubed striped bass, bluefish and flounder
1/2 lb. sea scallops
1 cup okra or 1 (10 oz.) package frozen okra pre-cooked
Cooked rice

Heat oil in large pot or dutch oven.
Add onion, green pepper and garlic; sauté until tender.
Add broth, tomatoes and seasonings.
Simmer for about 15 minutes.
Add seafood and okra.
Cook briefly until seafood is cooked through.
Serve over rice.
Serves 4-6.

Tautog Cakes

2 lbs. tautog
2 eggs
1/4 cup green bell pepper
1/4 cup red bell pepper, diced small
2 TBSP. Old Bay Seasoning
2 sleeves Ritz crackers
8 TBSP. olive oil

Poach the fish; drain and break up into chunks; let cool.
In separate bowl, mix egg and Old Bay.
Crush crackers into crumbs.
Mix all ingredients in a bowl; form into cakes.
To fry; dip in egg, flour and panko crumbs
To broil; drizzle with olive oil or melted butter.
Serves 6.

Striped Bass with White Wine

1 TBSP. canola oil
4 bass fillets
Salt and pepper to taste
8 oz. roughly chopped mushrooms
4 ribs celery, sliced
1 TBSP. chopped fresh thyme, or 1 tsp. dried
1/2 cup white wine

Heat oil in a large sauté pan over high heat.
Season fish with salt and pepper.
Place fish in pan and sear on one side for 1-2 minutes until golden.
Using spatula, transfer fish to a plate and set aside.
Turn heat down to medium-high and add mushrooms, celery and thyme.
Season with salt and pepper and cook for 3 minutes.
Pour in the wine, return fish to pan (seared side up), and simmer, covered for 5 minutes until cook through. Serve immediately.
Serves 4.