Vol 37 | Num 13 | Jul 25, 2012

Ocean City Fishing Report
Article by Larry Jock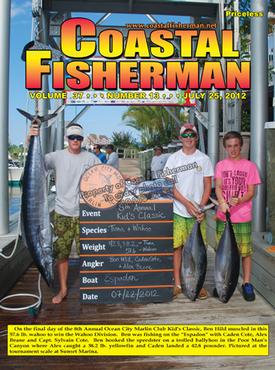 Unfortunately, bad weather plagued us for a couple of prime fishing days last week, but besides that we continue to see good action in the bay, on ocean structure and further offshore.

We survived another year of the Kid's Classic, and when I say "survived" I mean that in a good way. Imagine a tournament with 334 junior anglers, weighing in everything from spot, silver perch, flounder, oyster crackers, blowfish and yellowfin tuna. You can imagine the scene at the scales. It's pretty amazing what this tournament has developed into over the last 8 years. Hats off to Amanda Schick and others at the Ocean City Marlin Club for all the hard work they do to make this tournament a success!

Tuna

When weather permitted, anglers chunking with butterfish and sardines at the Hot Dog got into good numbers of yellowfin tuna.

Early in the week, boats crushed the yellowfins with several boats returning with incredible catches. On Monday, the "Marli" boated 24, followed by the "Jade II" with 22, Rhonda's Osprey with 17 and the "Grasshopper" with 15. Tuesday and Wednesday saw the bite mellow a bit, with most boats still having an excellent day with 4 to 9 yellowfins in the box. A few were even caught further south in the Washington Canyon. On Thursday, we were back to double-digit catches, led by the "Restless Lady" with 24 yellowfins. "That's Right" and the "Dawg Haus" each returned with 14 yellowfins and "White Lightning" and "Reelentless" both had 13 in the box.

The rough seas on Friday and Saturday prevented boats from hitting the tuna grounds, although the "Heavy Metal" amazingly ventured out to outside the Hot Dog on Saturday and returned with a couple of 40+ lb. yellowfins.

The bite on Sunday was pretty slow with most boats only catching a couple yellowfins during their trip to the Hot Dog.

Marlin

With the majority of boats spending their time on the incredible tuna bite at the Hot Dog, we didn't see much in the way of marlin catches last week until in the Kid's Classic on Sunday when 4 white marlin and 3 blue marlin releases were registered from the Washington and Baltimore Canyons. In addition, "Heavy Metal" released a sailfish during the tournament.

Wahoo

A wahoo was caught last week on the "Reel Joy" during a trip to the Washington Canyon on Wednesday and one was caught on the "Espadon" on Sunday in the Poor Man's.

Tilefish / Groupers

The "Wound Up" has been into deep dropping lately and had 7 tilefish and 3 groupers during a trip to the Norfolk Canyon on Tuesday.

Unfortunately, we received news that the 50 lb. snowy grouper caught by Gregory Benn on July 1st will not be recognized as a state record because a Maryland DNR representative was not present to verify the species. This is really a ridiculous rule that the state implemented a few years ago when a fish on the Western shore was misidentified and thought to be a new state record, only to be disqualified. Since it is pretty easy to identify most species, plus there are always plenty of pictures taken of the catch, in my opinion, to drag a MD DNR representative to the scale to verify an easily identifiable fish is a complete waste of time and can cost a well deserving angler the recognition they deserve.

Flounder

This year will definitely go down as one of the best flounder fishing years in recent memory. What we saw last week were anglers continuing to catch good numbers of fish in the bay, but the throwback ratio was definitely higher than it has been in recent weeks.
Those venturing out to ocean structure are really getting into good numbers of large flatties. This inshore flounder fishery is one that will definitely grow in popularity as more anglers discover the prime locations to catch bigger flounder with less boat traffic. A good example of this was the group on the "Catfish" who hit some offshore structure and came back with 12 beauties, caught on flounder belly. All the fish were nice, and their heaviest weighed in at 6 lbs. 5 oz.

In the bay, deeper holes along the rocks in the East Channel, the Middle Channel, the South Jetty and just south into the bay behind Assateague were all the prime locations last week for anglers fishing with live spot, peanut bunker, mullet and Gulp! artificial baits. The local charter and head boats continue to return with happy customers, so if you want to catch some flat fish but don't have a boat, give one of them a call.

Striped Bass

Not much to talk about when it comes to linesiders last week. Bite was very minimal. Those drifting live eels or spot at night picked up a few, but definitely nothing to write home about. I think the water is just too darn warm.

Sea Bass

Anglers have had some great days fishing for sea bass on ocean wrecks and reefs. The "Angler" returned with some beautiful fish over 3 lbs. last week and the "Morning Star" reported having their best sea bass trip this year. Capt. Monty said that the sea bass have been mixed in with flounder. One day the sea bass will be chewing and the next day it will be flounder on your hook. Just hard to predict.

In the Surf

We are in the summer doldrums for anglers fishing from the beaches. Kingfish, snapper bluefish, rays and some Norfolk spot are being caught by anglers using Fishbite bloodworms or small chunks of fresh bait.

At night, anglers are hooking into larger sharks, with sand tigers and duskys dominating the action.

Upcoming Tournament

This Friday, Saturday and Sunday is the 4th Annual Branch Kreppel Memorial Blue Marlin Tournament at Sunset Marina. Weigh-ins will be from 4:00 to 8:30 PM on Friday and Saturday and 4:00 to 8:00 PM on Sunday. This is a great chance to watch the weigh-ins from the recent additions made to Sunset Grille, giving you the best seats in the house.

See you at the scales!