Vol 37 | Num 13 | Jul 25, 2012

Article by Larry Jock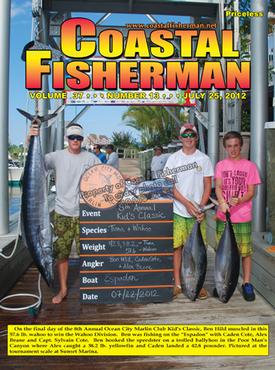 The good fishing we have seen this season just keeps rolling along for both inshore and offshore anglers.

Dolphin

You probably think we would be talking about catching dolphin offshore, but the real "news" are the dolphin being caught in the Indian River Inlet. You heard it right, in the Indian River Inlet. We are actually up to 5 mahi caught this season in the inlet. Pretty remarkable!

By the way, you can also find them offshore.

Tuna

The only people happier than tuna fisherman at the Hot Dog are the tackle shop owners who are selling butterfish. The chunking bite remained hot last week with several boats returning with double-digit catches. Fish are still averaging around 45 lbs. with the best bites happening right at daybreak. Capt. Joe Morris, inventor of the Lewes Harbour Stretch and owner of Lewes Harbour Marina reported that fish are often rising to the upper water column and could be seen cutting through the slick near the boat. Hand fed, weightless offerings got the most attention. Fluorocarbon leaders made a difference to keen sighted tuna with fishermen usually starting out with 50 to 60 lb. test, but dropping to a 40 or 30 lb. leader when fish could be seen but wouldn't take hook baits. The top catch out of Lewes was aboard the "Quintessa" with 19 yellowfins weighing up to 55 pounds.
The first two bigeye tunas landed in Delaware came in from an overnight trip to the Spencer Canyon by anglers on the "Finominal" out of the Indian River Marina. The largest of the 2 bigeyes weighed 250 lbs. with the "smaller" tuna tipping the scales at 150 lbs. We still haven't seen a picture of this catch and hope that one will be coming to us soon. (hint, hint)

Flounder

Capt. Bert at Hook'em & Cook'em said that the flounder bite in the Indian River Inlet has been good for anglers fishing from the shoreline with the better bite coming off the north side. Those offering live spot and 6-inch Gulp Swimming Mullets or Grubs have been catching some nice fish. The fish continue to hang on the edge of the rocks, so be prepared to lose some tackle.

Not a lot have been caught in the back bays. Joe at Whitetail Taxidermy & Outdoor Supplies did report that flatties were found in deeper holes and sloughs for anglers fishing with pink Gulp! artificial baits coupled with a long piece of squid.

Further north, flounder continue to be caught on the Old Grounds, between "DA" and "DB" Buoys, and reef sites 10 and 11 according to Capt. Joe. Bucktailers and those using traditional bottom rigs tipped with cut bluefish, squid, smelts or shiners had success with flatties. The "Katydid" continues to crush the flat fish, this week returning from one trip with 23 keepers, including a 7.87 pounder in the box on Thursday. Delaware Bay structure also yielded some flatties, like around Site 7 where Matt Baker, Chip Graves and John Drury used live spot to catch their limit of fish up to 6.33 lbs. Jake Wiles also decked a 6.5 pounder on a separate trip.

Striped Bass

Most of the stripers caught in the Indian River Inlet has been at night by anglers tossing poppers during the incoming tide. If they aren't catching stripers, anglers in the Inlet have a shot at triggerfish, puppy drum and tautog along the rocks if they are baiting up with sand fleas or green crabs.

Capt. Joe reported that slot size stripers have been available in the Lewes Canal. Anglers drifting eels around the Drawbridge, bottom fishing with clams or casting Gulp! Swimming Mullets and Storm shads has produced keeper linesiders in the 20 to 26-inch range.

Tautog

Since the reopening of Delaware's tautog season on July 17th, fishing has not exactly been on fire. Most feel that it is due to the warmer than usual water temperatures, which I would agree with. The "Top Fin" did find some tautog in cooler water at an ocean wreck and put 25 keepers in the box.

Croaker

Capt. Bert mentioned that plenty of small croakers can be caught in the Indian River Inlet on Fishbites, clam and squid. Fish are in the 8 to 12-inch range.

Sea Bass

The sea bass bite for Indian River head boats has been decent with the keeper ratio varying day-by-day. When you can catch a drift, the flounder bite is good. When you can't get a good drift going, the sea bass bite improves. The good news is that the average size of fish being caught has continued to increase.

Bluefish

Anglers tossing anything metal and shiny are hooking bluefish during the incoming tide in the Indian River Inlet. Gotcha plugs, Hopkins lures, diamond jigs and sting silvers are all being gobbled up by snapper blues.

In the Surf

The bite from the shoreline is in it's normal, summer mode. Kingfish, bluefish and even some Norfolk spot are being hooked during the daytime hours. Paul at Rick's Bait & Tackle said that those using bloodworms or small pieces of finger mullet are finding good success with these small fish.

Night surfcasters continue to get into good size sand tiger and dusky sharks. Those dropping tuna belly strips from kayaks are having excellent results with larger species. One angler had 5 the other night, 4 sand tigers and 1 dusky.

Until next week, tight lines!