Vol 37 | Num 13 | Jul 25, 2012

Article by Julie Ball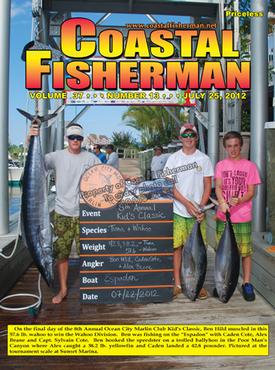 The recent cold front brought rain and some mild relief from the heat, but stand by for the effects on the fishing front.

Plenty of cobia are around, but the majority of the fish are still small. The folks at Ocean's East 2 report that dozens of cobia pups are cruising in small pods, offering consistent action for sight casters, but few keepers. Chummers are finding better luck with larger fish pushing to over 50 lbs. recently. Boats are setting up successful chum slicks near Bluefish Rock, York Spit, the Nine Foot Shoals and the Inner Middle Grounds. Red drum are also still providing topwater action as they school around the mouth of the Bay, especially near the Baltimore Channel. Sightcasters are also reporting schools of tarpon within the lower Bay, along with schools of Jack Crevelle in the same areas.

The flounder scene experienced an upswing in the abundance of fish last week. Many boats limited out with nice sized flatties, with many averaging around 4 lbs. or more. The hot spots for drifting with strip baits are the edges of the Baltimore Channel, the eastern section of the Thimble Shoal Channel and the Cell and Buoy 36A areas. Those dropping live bait and jigs on lower Bay structures and inshore wrecks are also getting a good response, especially around the 1st, 3rd, and 4th Islands of the Bay Bridge Tunnel. Within Lynnhaven and Rudee Inlets, flounder enthusiasts are experiencing good catches of fish ranging to 23-inches.

Sheepshead action is still very good, with fish ranging between 10 and 13 lbs. taking fiddler crabs presented along the Bridge Tunnel complex, with a few sheep coming from the Seagull Pier last week.

Plenty of greedy triggerfish are also available in these same areas, with some fish weighing over 3 lbs.

Spadefish are still schooling on nearshore wrecks and most of the span of the CBBT. Most of these fish are ranging between 3 and 5 lbs. Inshore wrecks are also harboring seabass, triggerfish, and flounder.

Spanish mackerel continue to hit very well off the oceanfront, from Cape Henry to Sand Bridge. Captain Steve Wray, skipper of the "Ocean Pearl" from Lynnhaven Inlet, reports the fish are holding in anywhere from 15 to 30-feet of water. Some of the Spanish are big, pushing to over 2lbs. Tailor bluefish are also mixed in with the Spanish.

King mackerel are available in the same areas, with scattered rumors of catches, especially from the Little Island Fishing Pier. Captain Jake Hiles aboard the "Matador" out of Rudee Inlet reports that big sharks are not uncommon lately, with black tip sharks, bull sharks, and hammer heads taking fresh and live baits presented off the beach.

Croaker are everywhere from the HRBT to the CBBT. The best hauls are coming from the backwaters of Oyster and Area 262 in Magothy Bay, where the folks at Chris' Bait and Tackle claim hardheads are ranging now to around a pound. Good reports of puppy drum are coming from both Lynnhaven and Rudee Inlets lately, and speckled trout are taking off again in the Elizabeth River.

The word on the tarpon scene on the Eastern Shore is that it is good. Plenty of silver kings are being sighted, with some hook-ups and jump-offs reported recently.

Amberjack are a no-brainer at the Southern "A" and "B" Towers, with some fish pushing to over 50-inches caught lately. Deep droppers are still pulling in good numbers of tilefish, rosefish, wreckfish and grouper along with a smattering of sea bass near the Canyon edges.
Offshore, billfish encounters are still on the rise. White marlin, with scattered sailfish and blue marlin, honored boats with several flags flying last week. Boats are also reporting lots of cutters in mostly 30 to 45 fathoms of water. Yellowfin tuna are around, with some fish pushing to around 60 lbs. hitting the docks lately. Wahoo and gaffer mahi are also possibilities.

Dr. Julie Ball is the I.G.F.A. representative for Virginia Beach, VA. For information, go to www.drjball.com.