Vol 43 | Num 7 | Jun 13, 2018

Article by Larry Jock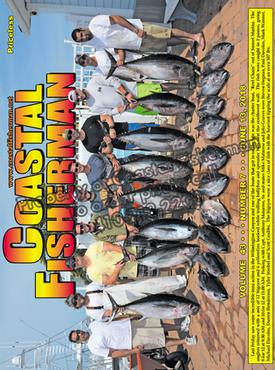 As I write this report on Monday morning, it is absolutely miserable out, but fortunately we had breaks in the bad weather last week when anglers were able to hit the water and produce some impressive catches. On Saturday, we had torrential storms roll through late in the day, so fortunately, anglers were able to get their day in but had to be careful when they got closer to home. Sunday's weather on land was dreary, but those who ventured offshore reported excellent conditions and were surprised when they got back to the dock.
Capt. Bert Adams at the Hook'em & Cook'em Tackle Shop in the Indian River Marina said that hickory shad, short striped bass and a few bluefish are being caught by anglers in the Indian River Inlet. Most of the action is coming from the south side of the Inlet for anglers tossing swim shads. There were a few keeper striped bass caught throughout the week but the bluefish are small, mostly in the 2 lb. class.

Bert saw a few keeper flounder brought in by anglers drifting Gulp artificial baits near the Coast Guard Station and some others came in from Massey's Ditch. One lady angler caught her limit of 4 flatties at the Ditch, 2 on minnows and 2 on Gulp, while her husband got skunked, but isn't that usually the case?

In the surf, the storms we had the previous weekend hampered surfcasters all week with dirty water conditions, but they were still able to find some kingfish, small striped bass, blowfish, bluefish and sand sharks interested in their offerings.

Headboats out of Indian River reported slow fishing for flounder, but decent catches of sea bass and larger sea robins. The DelJerseyLand reef site, which had been a top producer this spring for knotheads, was slow right up until the end of the week. Bert did mention that they saw a 4 lb. 10 sea bass caught by one of their customers, but he had to travel 36 miles SE of the Indian River Inlet to get it. Hopefully, we will have that picture for you next week.

At Fenwick Bait & Tackle, Matt Shoup reported very dirty water conditions for his bay anglers, but some still managed to pull a few keeper flounder from around the Rt. 90 Bridge and in the Thorofare. Matt was even surprised with the number of stripers caught in the Fenwick Ditch. Most were in the 23 to 26-inch range but a few keepers were caught as well in very dirty water.

In the lower Delaware surf, anglers are still mainly finding kingfish with a sporadic bluefish and striper bite.

Some of Matt's customers are heading down to the South Jetty in Ocean City now that the first sheepshead has been caught.

At Lewes Harbour Marina, Capt. Tommy said that flounder fishing in the Lewes Canal has turned on and the fish are getting bigger, with some 22 to 23-inch flatties hitting their cleaning table last week. Most have been caught on Gulp artificial baits, minnows and strip baits. Anglers in the Canal are still finding short stripers interested in their cut bait and lures. Tommy said they saw quite a few caught right in front of their shop throughout the week.
At the Cape Henlopen Pier, anglers are starting to find spot in addition to flounder and small bluefish.

The black drum bite, especially around the Coral Beds, has slowed down dramatically. Anglers are reporting that they are still seeing the fish but just can't get them to bite on their usual menu of clams and crabs.

Tommy also reported that some of his customers are making the trek down to the Bay Bridge Tunnel to jump on an improving cobia bite.
Shark fishing has been slow, but we did see a thresher caught in the middle of the week by Jamal Merrell near "DB" Buoy. Jamal's shark tipped the scale at 232.5 lbs and was caught on a butterflied mackerel.

Offshore, it was an excellent long weekend for tuna fishermen with most of the action taking place in the Baltimore and Wilmington Canyons, but a few went as far north as the Spencer. Trolling ballyhoo, spreader bars and Squidnation Flippy Floppy Things were the ticket all week. Yellowfins outnumbered bluefins but we also saw a good number of bigeyes hit the dock, especially on Friday when several boats returned after trolling in 200 to 300 fathoms on the south end of the Wilmington Canyon where water temperature hovered around 68-degrees. As is typically the case, anglers reported getting swarmed by packs of bigeyes creating a chaotic and exciting bite. The bigeye's I saw were a nice class of fish with several weighing over 90 lbs.

We also saw the first longfins of the season caught by anglers deep in the Wilmington Canyon.

Upcoming Tournament

Right around the corner is the 4th Annual Indian River Marina Kids Catch-All Tournament on June 22nd and 23rd.. Junior anglers can fish one or both days, Saturday and Sunday, competing in 14 different categories. Registration is Friday night from 6:00 to 8:00 PM at the marina. If you are a junior angler who likes to fish, this tournament is a can't miss!
See you at the scales!