Vol 43 | 2018 Winter Issue | Jan 1, 2018

Article by Capt. Franky Pettolina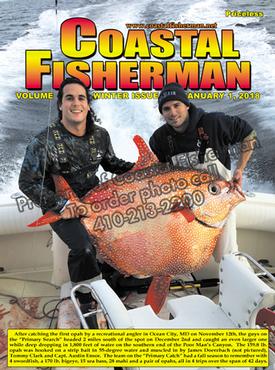 The first time I ever tried day time deep dropping for swordfish was in Venezuela in 1998. I was working as the mate on a boat called the "Reel Tease" at the time. I had no idea how to do it. I was using a borrowed strobe light and lead rig that one of my dock partners had used with success on several occasions. My captain, Jay Champlin, had a set of latitude and longitude coordinates given to him by the same dock partner who had some recent success.

The night before the trip I sent my Venezuelan mate, Gigi, out in search of fresh swordfish baits. He returned with two semi-frozen squid and a couple of fresh octopi. I had no idea how to rig an octopus. I don't even like touching an octopus. As a matter of fact, in hindsight, I think Gigi was hoping that we would change our minds and go white marlin fishing instead. That way he could have fresh octopus ceviche for lunch!

The next morning as we were heading out of the harbor in Caraballeda, Capt. Jay told me to measure off a thousand feet of line on our Shimano TLD 50 reels and mark the distance. We were going to be dropping close to the bottom in 180 fathoms in an area known to hold swordfish. In hindsight, a TLD 50 spooled with 60 pound monofilament (braid backing was not a common practice yet) doesn't have a whole lot of line left on the reel when you have over a thousand feet out. One of the members of my charter party that day was helping me mark the line. If you have read my columns before you have heard of my helper. His name is Robby and he and I have been fishing together since 1983. Robby was running a boat out of Bahia Marina at the time and he came down to Venezuela with one of his regular charter clients and the owner of the boat. While we were marking the reels, Gigi was grudgingly sewing hooks into his lunch.

About an hour later we arrived at our destination. The plan was to drop an octopus on our borrowed strobe light rig and a squid on our own rig made with cyalume chemical glow sticks and leads rigged like the ones on our borrowed rig. Like I said earlier, this was my first attempt at daytime deep dropping for swordfish. It was also my first time trying to drop to the bottom in more than 300-feet of water (for those of you not well versed in the terminology, there are 6 feet in a fathom, and for those bad at math that means we were trying to hit bottom in 1,080 feet of water… give or take).

The plan was for Capt. Jay to hold the boat steady in the current and I would drop a bait on one side of the cockpit and Gigi would drop one from the other side. Let me clue you in, this plan was mistake number three. Mistake number one was that we should have been using larger reels with more line capacity, but we did not have them. Mistake number two was that we weren't using enough lead on our baits. While we had borrowed a rig from a friend that was having success catching swords, this friend didn't tell us all of his secrets. The rig he loaned us had about a pound and a half of lead on it. What he didn't tell us was that he had another two to four pounds of weight that he would rig to break away from the line after it got to the bottom. The lead that was permanent on the rig was only for holding the bait on the bottom once it got there. We were doomed from the start.

First thing I learned during our attempt to drop to the bottom that day was to only drop one bait at a time. It is more or less impossible to keep the boat properly positioned for both baits to be dropped at once without one of them ending up under the boat or in the props. The second thing I can tell you is that the line most likely to get tangled in the boat's running gear is the one that has the rig you borrowed on it. Gigi was quite upset when I sent him in the water to untangle the rig. I am just not that aquatic. Thankfully, we did not lose the borrowed rig, but this was an omen. We should have given up then and went marlin fishing. I knew how to do that!

After we figured out that we could only drop one bait at time we successfully got both baits out to our marks at a thousand feet (give or take). I knew that we were supposed to be fishing close to the bottom. I also knew that the way our lines were stretched out behind the boat that there was no way we had our baits on the bottom. I wish I had known that we weren't using enough weight. We thought our rigs were right and our technique was wrong. We had that half right!!! Capt. Jay kept trying to back the boat up enough to get the rigs to drop and it just wouldn't work. Then the weirdest thing happened. We got a bite!

While I was misinformed on the technique and the tools, I was well informed on what to expect of the swordfish fight. Everyone I had talked to on the dock told me that the fish were relatively timid until they got closer to the surface. About half way up they would start to fight is what I was told. This was all going according to plan. We had a fish on. It wasn't fighting that hard. The problem was that after we had most of the line back on the spool the fish still wasn't fighting that hard. Capt. Jay had the answer. "It must be a little one!" Like the rest of this ill fated fishing trip, he was half right.

I could see the glow of our borrowed strobe light steadily rising. I could make out something spinning on the leader back behind it. The rod was shaking a little, but still not enough for a fish with the fighting reputation of a swordfish. Even a little one. And sure enough, a few moments later I saw why. What we had caught was definitely not a swordfish. I had no idea what it was. It was about two-feet long. It was dark colored with very big eyes and very thick scales. Gigi was licking his lips. I looked at him and asked him what it was. He rattled off a string of words in Spanish that ended with "Buena Comida!" I still had no idea what it was, but I knew that Gig thought it was very tasty!

We attempted another drop and then gave up and went white marlin fishing. Thankfully we caught a few of those. While we were trolling for marlin I went below and dug out my McClane's Field Guide to Fishes. After a lengthy search I discovered that we had caught an Atlantic Pomfret. Apparently Gig was the only one fully informed on the boat that day. The guide said that they were a valuable food source!

It wasn't until several years (and several unsuccessful attempts) later that I successfully caught a daytime swordfish in Venezuela. The successful attempt came on a boat called the "Ravenous". My friends Eric "El Capitan Sluggo" and his brother Wayne were working as the crew. This time I was the charter client. Watching "Brother Wayne", I learned how to properly rig a breakaway weight to the line. I paid close attention to how the bait was dropped to the bottom and how Capt. Eric maneuvered the boat to keep it there. Even more tricky was the boat handling that allowed the second bait to get to the bottom without fouling the first bait. But Eric and Wayne had it dialed in and we had a little luck on our side I am sure. By the time the second bait was set the first bait was getting bit. Just like that. Hooked up!

I was harnessed to a 130 pound class Shimano Tiagra in the fighting chair for this battle. Like I was told prior to my first attempt at daytime swordfishing, the first half of the fight was uneventful. This time however, right on cue, the fish began to show signs of being a fighter as soon as I had it half way up from the bottom. Drag was peeling off of the reel. There were several rapid direction changes. Eric kept the stern aimed towards the line. I kept the pressure on. Then it happened. A moment that will forever be etched in my mind's eye. Directly behind the boat, looking into the bright Venezuelan sun, my swordfish took to the air! The first jump was almost in slow motion. The bill broke the surface and the fish kept rising until it's full length was out of the water as it jumped away from us. As soon as it splashed back into the water it made a U-turn and somersaulted back at us. Eric sped the boat ahead and I cranked the reel for all it was worth. The hook held. For the next half hour there was a give and take between me and the fish. Ultimately, Wayne was able to grab the leader and gaffs were placed in the fish. I may or may not have hopped out of the harness and placed an additional, and unnecessary, gaff in the fish just for good measure. Minutes later the swordfish was on the deck and celebratory cervezas were being passed around!

Since those days in Venezuela I have watched the fever that is daytime deep dropping for swordfish spread. Since the mid-2000s the fishery has boomed in South Florida and on the Gulf Coast. Daytime swordfishing is now gaining popularity in the Mid-Atlantic these days. More boats are trying it, and a few of them are already having consistent success at it. My friends on the "Stalker" and the "Primary Search" caught swords on consecutive daytime trips this past fall. I know of boats out of Delaware and New Jersey that are completely dialed in. There are plenty of us that are making plans for next year too. I have also witnessed the "Primary Search" gang boat the first two recreationally caught Opahs for Ocean City this past fall. They kind of remind me of a much larger and much more colorful Pomfret. It will be interesting to see what other creatures come up from the depths in the coming years. I look forward to trying my luck at it, and if I happen to catch another Pomfret I will know what it is this time. And I will add more weight to my rig.

Capt Franky Pettolina is Co-Captain of the charter boat, "Last Call", owner of Pettolina Marine Surveying, Inc. and multi-term President of the Ocean City Marlin Club.