Vol 37 | Num 6 | Jun 6, 2012

Article by Larry Jock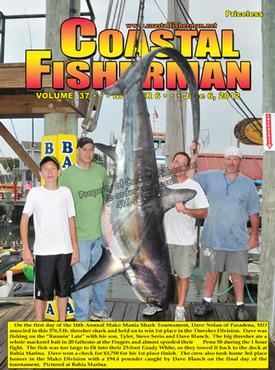 Bad weather made it tough to venture out into the ocean for offshore species and sea bass, but anglers were still able to stay inside and peck away at flounder, trout and bluefish.

Striped Bass

Striped bass was a mixed bag last week. When the bite was on, it was pretty good. Otherwise, nothing.
Capt. Bert Adams at Hook'em & Cook'em said that anglers are still catching them in the Indian River Inlet on swim shads and Bomber lures, but the bite is inconsistent. The best action has been between 1 AM and 3 AM off the tip of the Indian River Jetty and by the Coast Guard Station.

Up in Lewes, Capt. Joe Morris, inventor of the "Lewes Harbour Stretch" that can make a 20 lb. linesider look like a 50 pounder, said that, "Striper action slowed compared to what it was in past weeks, but bassers willing to lose some sleep had linesiders during hours of darkness along the Outer Wall and Ice Breakers. Live eels, Gulp! Eels, Storm Shads, Rat-L Traps and Bomber plugs were favored offerings."

Flounder

The good news is that flounder are beginning to show up in larger numbers in the Indian River Inlet according to Capt. Bert Adams. He said that the fish are definitely getting larger and are feeding on very small spot, in the 2-inch range. So, if you can catch yourself some of these small baitfish, you have a good chance at getting a nice flattie.

Anglers crushed the flounder in the Inlet on Saturday night, right up to 9:00 PM, and again on Sunday by the Coast Guard Station. Capt. Bert mentioned that flounder fishermen using Bass Assassins and Z-Man artificials in the "Opening Night" color of purple and silver did well.

Further north, Capt. Joe Morris at Lewes Harbour Marina said, "There was a decent sign of flounder in the Delaware Bay this past week. Crews putting in time drifting artificial reef sites 5, 6, 7 and 8 found flatties willing to cooperate during moving tides. With Delaware Bay water temps rising into the 70's, flatfish are starting to move through shallow water along the shore also. Small boaters close to Broadkill and Lewes Beaches caught flounder while casting Gulp! artificials. Flatties continue to come from the Broadkill River and the Lewes Canal where Nick Psaroudakis pulled in a 6.4 pound doormat."

Familiar inshore haunts, like the Old Grounds, are beginning to give up catches of good-size flounder. Commercial anglers are reporting solid catches of flatties not far off the beach and on inshore reefs and wrecks.

Trout

In the Delaware Bay, anglers continue to hook into weakfish where surfcasters caught spike trout along Broadkill Beach. Peeler crabs and chicken did the trick for beach anglers in the early evening. The Roosevelt Inlet also gave up some weakfish to anglers tossing Bass Assassins, Fin-S Fish and Gulp! artificial baits. The best bite occurred at the end of the morning incoming tide.

Bluefish
Capt. Bert reported a bluefish bite that was "off the hook" in the Indian River Inlet. Anyone throwing metal lures, spoons and Gotcha plugs had an excellent shot at catching some snappers.
Around the Fingers and the Sausages, anglers are starting to get in on larger bluefish, up to 11 lbs., while trolling hoochies. We've been missing these fish for a while so it's good to see them showing up again.

Sea Bass

Due to the windy weather and rough seas, it was tough to get out to the sea bass grounds last week. When anglers could venture out, a lot of sea bass were caught although the throwback ratio continues to run very high.

Up in Lewes, Capt. Joe said that sea bass action is still pretty good at Reef Site 11, but many popular spots have been hit hard, and the fish that remain are shy of the 12 ½-inch minimum. It takes more anchor drops to put a good catch in the box. Wrecks and structure a little farther offshore seem to be holding more quality bass, along with big ling and the occasional cod.

Tuna & Dolphin

When they were finally able to venture offshore, anglers found plenty of yellowfin tuna on Sunday with some dolphin in the mix, in 40-70 fathoms from the south end of the Baltimore?Canyon to the Poor Man's Canyon.

Sharks

In the middle of the week, the crew on the "No Slack" returned with the first mako shark caught out of Indian River. They boated a 125 pounder at the Hambone while using whole mackerel for bait.

White Marlin

The first white marlin released by a boat out of the Indian River Marina occurred on Sunday when Josh Gessler released one in 50 fathoms in the Poor Man's Canyon. Josh was fishing on the "Boy's Toy"

Blowfish

Those who are interested in catching blowfish are finding 12-inch fish in the Rehoboth Bay. Fishbites or small pieces of clam or squid are the baits of choice.

Until next week, tight lines!