Vol 37 | Num 6 | Jun 6, 2012

Article by Larry Jock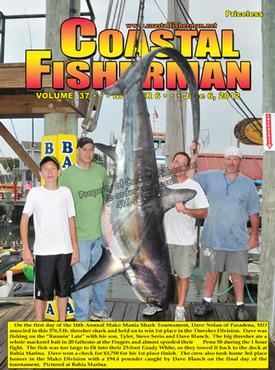 Volunteers needed for Inland Bays Cleanup on June 23

The DNREC Division of Fish and Wildlife Enforcement Section, along with Enforcement Section volunteers, the Center for the Inland Bays and the Division of Parks and Recreation, are seeking volunteers and boats for the Eighth Annual Cleanup of the Inland Bays beginning at 9 a.m. and finishing up about 2 p.m., Saturday, June 23.

This year, the cleanup will take place at Massey's Landing Public Boat Ramp at the end of Long Neck Road and concentrate on the Rehoboth Bay and Indian River Bay areas. A Little Assawoman Bay Cleanup will be scheduled for later in the summer.

Volunteers should dress to get dirty and be prepared for cooler conditions on the water, as well as wet walking conditions on land. Rubber boots are also suggested. Those who have access to lifejackets should bring one, as they are required on boats. Otherwise, lifejackets will be provided. This event is not recommended for children under the age of 10.

Last year's event drew 100 volunteers who collected a large quantity of debris, including soda bottles and cans, tires, derelict crab pots and a lot of plastic.

"With this event, we are continuing our public outreach on behalf of the Division of Fish and Wildlife, Delaware State Parks, the Center for the Inland Bays and our Fish and Wildlife Enforcement volunteers. We hope that through activities such as the clean-up, people using the Inland Bays will pause long enough to make decisions that truly benefit these waterways," said Sr. Cpl. Casey Zolper of Fish and Wildlife Enforcement.

Volunteers are encouraged to sign up in advance, as lunch and t-shirts will be provided. To volunteer or for more information, please contact E.J. Chalabala, Delaware Center for the Inland Bays, at 302-226-8105 or by email at restoration@inlandbays.org.