Vol 47 | Num 21 | Sep 21, 2022

Article by Capt. BJ Pietryak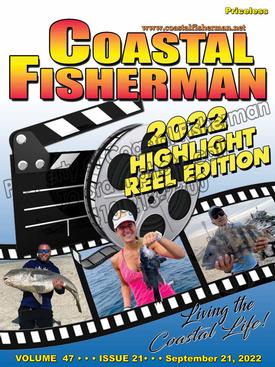 We saw some cool mornings last week with many early temperatures in the upper 50's and low 60's. This shift in overnight temperatures signals the end of summer and our journey into the fall fishing season. Big flounder and even some mahi are still around, but with cooler temps many will begin changing their targets to rockfish as well as black and red drum.

Near Shore Wrecks & Coral Areas

The near shore wrecks have slowed down significantly. Many anglers found flounder not as ready to bite a bait. Even still, a few flatties were caught. Captain Chris Mizurak of the "Angler" told me that fishing was tough the past week, with the flounder just not ready and willing to bite baits put before them. Despite this, some anglers, including Ted Proseus caught a nice 6 lb. flounder on one of his newly designed jigs with a white Gulp bait. Several other nice fish were caught on the "Angler" in the 20" range, however the overall numbers were down from past weeks. They also managed to find a few lookdown fish. The coral near A Buoy as well as Site 11 remained your top fishing spots last week. Live spot and 6" Gulp were the best baits. Jigging on some wrecks has also produced some decent fish, however most wrecks are now being inundated by small sea bass. Better numbers of keeper sea bass were reported as water cools and fish return inshore. Tracy and Art Donavan Smith were out at the Coral Grounds and found a nice limit of flounder to take home as well as a few bass pots filled with small mahi. Sounds like they will have a freezer full of fillets for the winter.

Jonathan Fazekas of "Bottom Line Sportfishing" said they still have a few dates open for mahi pot hoppin' and light tackle fishing before the fish move back offshore. In recents weeks the report from this boat has always provided lots of pictures of some nice inshore mahi.

The "Bill Slayer" was also on the nearshore bass pot balls and found their share of juvenile mahi ready to bite. Chris Ragni and Bill Wallace returned to the dock with plenty of mahi to fill the freezer. The last report I received on Friday was that the mahi were east of Site 11 and starting to move deep. I received a few reports earlier last week that fish were seen near the lightship but would not bite anything trolled past them or thrown at them. As sea bass began to move back inshore, fresh clam is a must to weed through the smaller fish. Jigs and sand fleas can also be very productive this time of year. Considering that we've had a very productive summer for bass despite the warm water, this fall should be spectacular.

Back Bay Areas

At Indian River the main focus is still on fluke, however many anglers are switching to tog and sheepshead fishing at the inlet which has really turned on lately. Sheepshead caught on jigs tipped with sand fleas is the best option for targeting these fish, nicknamed the "poor man's lobster". Jim Grill pulled 2 nice sheepies off the rocks at the inlet last Wednesday. Both fish were about 18". Karen Hocker was fishing at the Indian River inlet on a high tide with sand fleas. She fought a nice fish but lost it near the rocks. A few minutes later she hooked the same fish and landed it! The fish even had the split shot and hook she had broken off when she hooked it the first time. Goes to show you, persistence pays off!

Christopher Singer also got in on the sheepshead catch at the inlet catching a nice 21 incher.

Julia May Mister was fishing the outer wall in Lewes with sand fleas and caught a big sheep as well as 3 keeper tog. The biggest tog measured 21". She was fishing with Billy Mister who is often featured in this article.
David Gill was fishing with his buddy Joe and landed a 4 ft. sandbar shark from the mouth of the Indian River Inlet.
Victor was fishing Bowers Beach and took a nice sea trout off the jetty.

Aiden Sparino got a nice trophy fishing the pier tournament at the Cape Henlopen Pier. The tournament was run by Lighthouse View Bait and Tackle.

Changing of the Seasons

Last Saturday Samantha and I were out fishing for bass and flatfish. I heard several reports of big fish ripping off line and digging bottom on the near shore ground. It was later confirmed that many of the big fish were trophy overslot redfish. As the water cools we should see more and more of these fish in the nearshore waters as well as puppy drum in the back bays. For the offshore big ones, cut bait on a circle with a heavy fluorocarbon leader is the best way to target them.

While drifting for flounder or bass, drop a big bait down and let it stay just a couple feet off the bottom.

Redfish in Delaware must be between the slot of 18 inches up to 26 inches. Many of these ocean fish will be way over slot but are still a blast to hook and fight. In the back bays, the redfish should be in within the next month. Big Bird's Roy Rigs have always been a favorite of mine for fall puppy drum fishing. The shorter shank and red head jig just seem to have a better hook up ration than standard swim jigs. Any paddle tail or swim jig will work, just make sure you're casting right next to the jetty or structure and fish the bottom. Swimming the jig even 3 feet off the bottom will often result in no bites. As Big Bird always tells me "if you're not bouncing bottom and losing an occasional rig, you're not catching!"

Until next spring... Keep those lines tight and the fins up!