Article by Christine Budd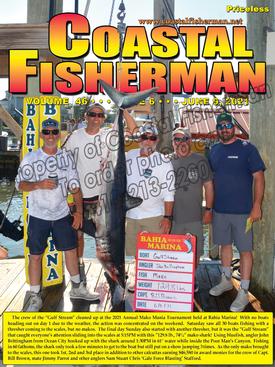 Tuna Tartare in Sesame Ginger Sauce

Ingredients:
Tartare:
12 ounces of sushi grade Tuna, cut into small cubes
4 green onions, finely chopped
2 tbsp. toasted sesame seeds
1 avocado, chopped into small pieces
1/2 cup diced cucumber
A handful of cilantro, chopped
1 tbsp. lime juice
Pinch of salt & pepper
Sauce:
2 cloves of garlic, minced
1 tbsp. grated ginger
2 spring onions, chopped
2 tbsp. soy sauce, gluten-free if needed.
1 tbsp. sesame oil
1 tbsp. rice vinegar
1 tbsp. honey

Directions:

Add all the sauce ingredients to a bowl and mix together. Set aside.
Add the cut up tuna, green onions and sesame seeds directly to the bowl of sauce and mix until combined. In a separate bowl, mix together the finely chopped avocado, cucumber, cilantro, lime juice, salt, and pepper.
Plate your tartare by using a mold or a circular ramekin.

Pan Fried Rockfish with Quick Rosemary Mushroom Sauce and Broccolini

Ingredients:
Roasted Veggies:
10 stems of broccolini, 8 ounces
6 small tomatoes, 8 ounces
1 Teaspoon olive oil
Sea salt and pepper to taste
Mushroom Pan Sauce:
12 cremini mushrooms, 8 ounces
1 Tablespoon butter, or olive oil for dairy free
1 shallot, minced, 1/4 cup
2 Teaspoons minced fresh rosemary
1/2 cup white wine, or chicken stock
Sea salt and pepper to taste
1–2 Teaspoons reserved flour mixture from fish
Pan fried rockfish:
12 ounces of rockfish for a 6 ounce serving each
2 Tablespoons flour
1/2 Teaspoon sea salt
1/4 Teaspoon black pepper
Pinch of cayenne pepper
1/8 Teaspoon garlic powder
1 Tablespoon olive oil for pan frying

Directions:
Preheat the oven to 450ºF and line a baking sheet with parchment paper.
Cut the tomatoes in half and place them on the lined baking sheet with the broccolini. Drizzle with olive oil and season with sea salt and pepper. Set the veggies aside until you're done with the pan sauce.
Make the flour mixture for the fish by whisking together the cassava flour, sea salt, black pepper, cayenne, and garlic powder. Reserve 2 teaspoons of this flour mixture on the side for thickening the mushroom sauce.
Thoroughly clean the mushrooms and thinly slice them.
Preheat a 9" cast iron pan over medium heat, add the butter or olive oil and minced shallots. Sauté the shallots until translucent and lightly browned, about 3-4 minutes. Turn the heat up to medium high, add the minced rosemary and sliced mushrooms, sauté turning the mushrooms every 30-45 seconds when they've browned. When the mushrooms are tender, turn the heat back down to medium, and add the white wine. Simmer for 1-2 minutes and season to taste with salt and pepper. Thicken the sauce by stirring vigorously while sprinkling in 1 teaspoon of the reserved flour mixture. If the sauce is still too thin, stir in the remaining teaspoon of reserved flour mixture. Set the sauce on a back burner over the lowest heat to keep it warm while you cook the fish and veggies.
Place the prepared veggies in the oven to roast until tender, about 12 minutes.
Preheat another 9" cast iron skillet or nonstick skillet over medium heat. Rinse the fish thoroughly with water and pat the fillets dry with paper towels. When the veggies are halfway cooked, you're ready to start the fish.
Add the tablespoon of olive oil to the preheated pan, and dredge both sides of each fish fillet into the flour mixture you made earlier. Place the fillets into the pan and fry for 4-6 minutes per side, or until golden and the fish is beginning to flake apart. The timing will vary every time depending on the thickness of your fillets.
Serve by placing a fillet on each of the 2 plates, split the roasted veggies onto each plate, and top with the mushroom sauce.
Serve immediately.

Best Easy Healthy Baked Salmon

Ingredients:
4 salmon fillets - about 6 ounces each
2 tablespoons olive oil
½ teaspoon salt - or to taste
¼ teaspoon cracked black pepper - just a pinch if using finely ground black pepper
2 teaspoons minced garlic
1 teaspoon Italian herb seasoning blend - or herbs de provence, or ¼ teaspoon each dried thyme, parsley, oregano, and basil
1 medium lemon

Directions:
Preheat oven to 400 degrees and grease a large baking pan. Arrange salmon fillets on the baking sheet and season generously with salt and pepper.
Stir together olive oil, garlic, herbs, and juice of 1/2 lemon. Spoon over salmon fillets being sure to rub all over the tops and sides of the salmon so it has no dry spots. Thinly slice remaining 1/2 of lemon and top each piece of salmon with a slice of lemon.
Bake for 15-18 minutes until salmon is opaque and flaky when pulled apart with a fork. You can broil the last 1-2 minutes if desired.
Garnish with fresh thyme or parsley if desired and serve.
Flavor tip: swap out the lemon for lime and add a sprinkle of cilantro at the end!

Ahi Tuna with Ponzu Sauce

Ingredients:
For the Ponzu Sauce:
1/3 cup soy sauce
1/4 cup fresh lemon juice (from 2-3 lemons)
2 tablespoons fresh lime juice (from 1-2 limes)
2 tablespoons mirin or rice vinegar
1 tablespoon brown sugar plus more to taste
1/8 teaspoon cayenne pepper
For the Ahi Tuna:
1 tablespoon olive oil
2 (8 ounce) Ahi tuna steaks (about ¾ of an inch thick, see note 4)
Scallions for garnish
Cooked rice for serving

Directions:
To make the Ponzu Sauce:
In a small bowl, whisk together soy sauce, lemon juice, lime juice, mirin, brown sugar, and cayenne pepper. Divide sauce in half and reserve half the sauce for dipping.
To make the Ahi tuna:
Coat the tuna steaks in remaining ponzu sauce and marinate for at least one hour.
In a large nonstick skillet over medium-high heat, heat oil until shimmering. Remove tuna steaks from marinade, wipe off excess, and add to skillet. Sear 1 to 2 minutes per side for rare.
Transfer to cutting board and let rest 5 minutes. Slice into 1/4-inch slices and garnish with scallions. Serve with white rice and reserved ponzu sauce for dipping.
Notes:
Mirin: If you can't find Mirin (a sweet Japanese cooking wine), substitute 2 tablespoons white wine or rice vinegar + 1 teaspoon sugar.
Brown sugar: Start with 1 tablespoon and add more to the ponzu sauce to taste, if desired.
Cayenne pepper: Add to taste or omit entirely.
Ahi tuna: Also known as yellowfin tuna or bigeye tuna. Fresh tuna will be red or pink in color and will usually come in a giant loin that gets cut as it's requested. If you can only find pre-cut pieces of tuna, look for tuna steaks that are moist and shiny with barely translucent meat. If the steaks look dull, brown, or if the muscle starts to separate into flakes, the fish isn't fresh. Fresh tuna smells like the sea; if it smells too "fishy," pass.
A different fish: Try mahi, sea bass, cod or even salmon. You may prefer to cook these fish a bit more thoroughly in this recipe, depending on your personal taste.

Pan-Roasted Swordfish Steaks with Mixed-Peppercorn Butter

Ingredients:
1/4 cup (1/2 stick) butter, room temperature
2 teaspoons chopped fresh parsley
1 garlic clove, minced
1/2 teaspoon ground mixed peppercorns, plus more for sprinkling
1/2 teaspoon (packed) grated lemon peel
1 tablespoon olive oil
4 1-inch-thick swordfish fillets (about 6 ounces each)

Directions:
Preheat oven to 400°F. Mash butter, parsley, garlic, 1/2 teaspoon ground mixed peppercorns, and lemon peel in small bowl. Season to taste with salt.
Heat oil in heavy large oven proof skillet over medium-high heat. Sprinkle swordfish with salt and ground mixed peppercorns. Add swordfish to skillet. Cook until browned, about 3 minutes. Turn swordfish over and transfer to oven. Roast until just cooked through, about 10 minutes longer. Transfer swordfish to plates. Add seasoned butter to same skillet. Cook over medium-high heat, scraping up browned bits, until melted and bubbling. Pour butter sauce over swordfish and serve.