Article by Christine Budd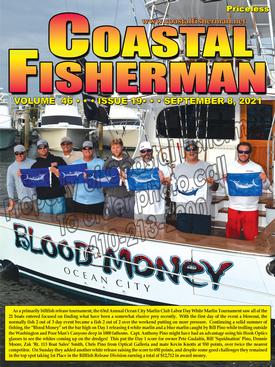 Grilled Tuna Steak Salad
with Wasabi Vinaigrette

Ingredients:

Grilled Tuna Steak Salad:
2 fresh yellowfin tuna steaks
Olive oil
Kosher salt and cracked black pepper
4 handfuls of mixed salad greens
Juice of one lime
1 avocado, diced
1 medium-sized cucumber, diced
1/4 cup thinly sliced scallions, white and green parts (extra for garnish)
2 tsp. sesame oil
1 tsp. rice wine vinegar
1/2 tsp. fresh grated ginger
2 Tbsp. toasted sesame seeds (extra for garnish)

Wasabi Vinaigrette:
1/2 tsp. wasabi paste
1 Tbsp. rice wine vinegar
1 Tbsp. low sodium soy sauce
3 Tbsp. extra virgin olive oil

Directions:

Heat a clean grill or a grill pan or griddle over high heat. Wipe with a thin layer of oil over the surface using tongs and a paper towel dipped in olive oil. Wipe over the surface a few times until it's slick.
Pat the tuna steaks dry with paper towels, then season with a bit of salt and pepper. Place the tuna steaks onto the hot cooking surface and sear them for 1-2 minutes per side. You want a sear on each side with a cool pink center. When done, remove the tuna from the heat. Set the steaks onto a cutting board and let them rest.
Place the salad greens into a large bowl. Drizzle them with lime juice and massage the lime juice into the greens for a light and even coating, then distribute the greens evenly onto serving plates.
Transfer the avocado, cucumber, and scallions to the bowl you used for the greens; sprinkle with the toasted sesame seeds.
In a small bowl, whisk together sesame oil, rice wine vinegar, and grate ginger until thoroughly combined. Drizzle over the avocado and cucumber mixture, and gently toss to coat. Dividing the mixture in half, place over top of the plated greens.
Carefully slice the tuna against the grain into bite-size cubes. Top each salad with the cubed tuna. Drizzle each salad with wasabi vinaigrette, top with extra sliced scallions and toasted sesame seeds if desired, and serve.

Wasabi Vinaigrette:
Place the wasabi paste, rice wine vinegar, and soy sauce into a small bowl. Whisk to combine. While whisking, slowly drizzle the olive in with a steady stream to emulsify.

Hot Shrimp Dip

Ingredients:

8 oz. cream cheese softened
1/3 cup mayonnaise
1/4 cup sour cream
1 1/4 cup shredded cheddar cheese
1 1/4 cup shredded Pepper Jack cheese
1/2 Tbsp. Old Bay Seasoning
1 tsp. Worcestershire Sauce
3–4 dashes hot sauce
16 oz. shrimp cooked, coarsely chopped
2 cloves garlic minced
3 green onions thinly sliced

Directions:

Preheat oven to 375 degrees.
Using a hand held mixer beat cream cheese, mayonnaise, sour cream, 3/4 cup cheddar cheese, 3/4 cup Pepper Jack cheese, Old Bay Seasoning, Worcestershire Sauce and hot sauce until smooth. Stir in shrimp, garlic and green onions.
Spoon into a baking dish and top with remaining cheddar and Pepper Jack. Bake for 20-25 minutes or until the cheese is melted and the dish is bubbly and heated through.

Best Blackened Cobia

Ingredients:

1 cobia fillet (6 oz.)
1 tablespoon butter
1 teaspoon salt
1/2 teaspoon paprika
1/2 teaspoon black pepper
Pinch of cumin
1/2 teaspoon thyme or oregano
1/2 teaspoon garlic powder
1/2 lemon

Directions:

Rinse cobia in cold water and pat dry with paper towels.
Mix spices in a small bowl and cover the fish entirely with it.
Heat butter in a skillet (it has to be very hot!) and place fish in it. Cook for 3 minutes on one side and then for another 3 minutes on other side.
Move to the plate, squeeze lemon on top and serve.

Crab Ceviche Appetizer

Ingredients:

1 lb. crabmeat or imitation crabmeat
1 1/2 cups cilantro, chopped
1/2 white onion, chopped
2 tomatoes, diced
1 seedless cucumber
3 limes
3 finely chopped serrano peppers (optional)
1 tablespoon ketchup
1/2 cup Clamato juice

Directions:

In a large bowl blend crab meat without breaking it up too much.
Add juice of 2 limes, onion, tomatoes, chopped cucumber and serrano peppers.
Add salt.
Combine the ketchup, Clamato and the juice of the third lime.
Add more salt if necessary.
Serve with Mexican corn chips or crackers.
I serve in a margarita glass with a wedge of lime on top.
Note: You can use V8 juice instead of Clamato if you want.

Seared Tuna with Avocado & Salsa Verde

Ingredients:

2/3 cup lightly packed flat-leaf parsley leaves
3 tablespoons drained capers
1 clove garlic, smashed
4 teaspoons lemon juice
1 teaspoon anchovy paste
1/2 teaspoon Dijon mustard
3/4 teaspoon salt
1/4 teaspoon fresh ground black pepper
1/2 cup plus 1 tablespoon olive oil
4 tuna steaks, about 1 inch thick (about 2 pounds in all)
1 avocado, cut into 1/2-inch chunks

Directions:

Put the parsley, capers, garlic, lemon juice, anchovy paste, mustard, 1/2 teaspoon of the salt, and 1/8 teaspoon of the pepper into a food processor. Pulse to chop, six to eight times. With the machine running, add the 1/2 cup oil in a thin stream to make a coarse puree. Leave the sauce in the food processor and, if necessary, pulse to re-emulsify just before serving.
Heat a grill pan or heavy cast-iron pan over moderately high heat. Rub the tuna steaks all over with the 1 tablespoon oil. Sprinkle with the remaining 1/4 teaspoon salt and 1/8 teaspoon pepper. Cook the fish for 3 minutes. Turn and cook until done to your taste, 3 to 4 minutes longer for medium rare. To serve, top the tuna steaks with the avocado and drizzle with the sauce.

Classic Margarita

Ingredients:

1 ounce Triple Sec
1 ounce fresh lime juice
2 ounces Tequila
1/3 ounce Agave syrup
1 cup ice

Directions:

Fill up cocktail shaker halfway with ice
Add the rest of the ingredients & shake 10-15 seconds
Pour into glass & garnish with lime wedge - salt the rim beforehand if you'd like!