Vol 48 | Num 21 | Sep 20, 2023

Article by Larry Budd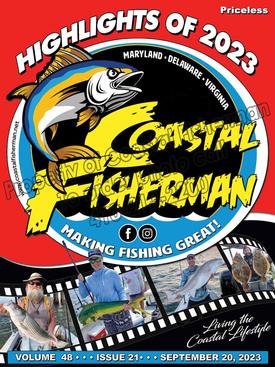 This Week Last Year
It looked like Hurricane Earl blew some fish into the Washington Canyon!
• The "Cabana" fished there and returned with 5 swordfish on board.
• The "Boss Hogg" scored a bigeye along with a wahoo, mahi and tilefish.
• The "Instigator" returned to Sunset Marina from an epic overnight trip to the Washington with 6 bigeyes, the largest at 243 lbs. They also landed 2 swordfish!
• There were marlin there as well. Both the "Showtime" and the "Seven" released 5 white marlin on single trips.

Hurricane Lee and it being late September conspired to limit the number of anglers heading to the canyons over the past week. The few we heard from had decent reports, mainly on marlin and mahi. As tuna remain elusive, we are seeing more tilefish hitting the docks as well.

Several boats had successful marlin trips recently. The "Fish On" went out early last week and anglers Joseph Freeberry and Jay Freeberry released 5 whites. Wes Veater released his first white marlin while trolling at the 800 square. Before Lee took over the waves, the charter boat "C-Boys" made a run out to the Wilmington Canyon and went 3 for 5 on whites as well as snagging a few dolphin. The charter boat "Boss Hogg" got a few trips in and did very well working 350 - 450 fathoms in the Wilmington Canyon. One trip saw 2 whites released and over 30 mahi hit the cleaning table at Sunset Marina. Another had 7 releases while a third reported 5 whites released and a blue marlin. A great week of fishing for them.

The "Turnin Fins" out of the Ocean City Fishing Center caught a keep swordfish on one of their day trips. They were deep dropping in 1500 feet at the 800 Square. A real treat since most are caught on overnight trips.

We have very limited reports of tuna over the past week. Perhaps because many were marlin fishing, or because they are not here! Early last week the charter boat "Fish On" caught a couple of yellowfin tuna. The "Boss Hogg" returned to Sunset Marina with most of a good size yellowfin tuna from one of their marlin trips. Sharks are still an issue. They were trolling in 350 to 450 fathoms in the Wilmington Canyon. Capt. Dave Midgett on the charter boat "All In" put a nice bigeye on the scales at the Ocean City Fishing Center last Saturday. They got a late start and stayed out late. Good thing, as they got hit by 2 eyeballs in the Washington Canyon just at sunset. One came tight and weighed 165 lbs.

While the dolphin bite has been strong this season and the trend continued last week. We are just not seeing the gaffers and big ones of last year. I could probably count the number of 25+ lbs. ones on both hands. Still lots of peanuts made their way in from the canyons and bass pots. The "Aboat Time 2" out of the Cedar Creek Marina hopped around the pots at the DelJersey, getting over a dozen in the box. Lilly Phillips and Kylee Forester were there too and they with their crew got 21 aboard as well as an atlantic trippletail and an almaco jack.

James and Julie Trickey reported a 33 lb. wahoo they caught while fishing on their boat the "Reel Trickey". They fooled the speedster with a candy apple red Joe Shute they trolled at the Hot Dog.

There is still a lot of good fishing in the fall, especially for swordfish. The Rena Bishop Broadbill Bash has updated the tournament format from a 3 day event to a fish 2 of 10 days from October 5th through the 14th. This is a great move, as October weather can be unpredictable. Check out the other events in our Upcoming Tournament listing after this article.

Since this is the last issue of the Coastal Fisherman for the season, I just want to take a moment to thank a few folks.

First, thank you to all of our faithful readers. The paper continues to fly off the rack each week and we always appreciate all the nice comments we receive. It definitely makes it worthwhile knowing that readers are enjoying the paper each week. I also appreciate all of the pictures that readers submit. This year, we ran over 1,400 pictures in the Coastal Fisherman, with many of them emailed to us each week. These are the fuel for our publication, so we appreciate all of those who take the time to share what they are catching with us at [email protected].

Thank you to our advertisers. Many have been with us for many years, and we appreciate their loyalty. Since the Coastal Fisherman is still a free publication, advertisers make it possible to keep the doors open. That is why it is so important to give our advertisers as much business as possible. Nowadays, it is too easy to just sit at our desks and order online. Local businesses are the backbone of our community and especially our fishing community. Please let them know how valuable they are and how much they are appreciated by giving them your business.

Thanks also go out to our columnists. Capt. Mark Sampson, Steve Katz, Capt. BJ Pietryak, Capt. Matt Abell and my wife Chef Christine, all did a great job this season writing entertaining and informative columns each week. Trust me, it's not easy coming up with an interesting topic every week. It is much harder than you can imagine, but our columnists continue to do it every year and their work is appreciated.
Thanks also to the many tournament directors and staff that allow us to be part of the crew at the scales to provide such great images and stories of the events.

Finally, thanks to my staff. We are a small business with a limited staff. Tom Jock works tirelessly with our advertisers to create and update most of the ads you see every week. My man Ray Wells helps us keep the racks full so that everyone who wants a copy, gets one! Special thanks to the South Bethany Crew that works with Christine weekly to process and mail the paper weekly to our subscribers.

Well, that's it! Hopefully, we will have a nice fall. I wish everyone a safe and happy fall season and hopefully I may see you on the water. Look for the next Coastal Fisherman on January 1st. §

Upcoming Tournaments
• Old Inlet Bait & Tackle hosts the 26th Annual Delaware Seashore Fall Surf Fishing Classic on September 23rd & 24th. This event offers over $15,000 in cash and prizes as well as the coveted bronze trophies! More at OldInlet.com.
• The last offshore tournament of the season is the Rena Bishop Broadbill Bash to benefit the Burbage Regional Cancer Care Center. This year the format is fish 2 of 10 days from October 5th - 14th to allow more flexibility with the weather. The primary focus is swordfish, however there will be calcuttas for heaviest tuna and stringer. More at OCBroadbillBash.com.
•The Lewes Harbour Marina will be hosting two tournaments this fall. The first will be their annual month long Tautog Tournament staring in late October. The second will be another month long event, a Striper Tournament. That one will start late November. Exact dates will be finalized soon. For more info call (302) 645-6227 or check their social media sites.