Vol 48 | Num 4 | May 24, 2023

Article by Larry Budd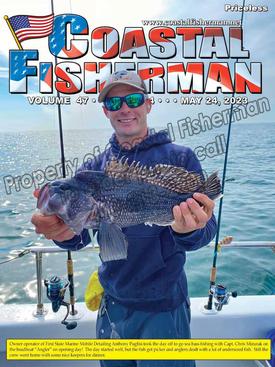 This Week Last Year

• While still cool, the Memorial Day forecast for last year was more seasonable, and as the temps rose, so did fisherman's hopes!
• The cover of last year's edition was a 347 lb. thresher shark caught on the "HotLine". The 88" shark was caught on a whole mackerel at the Fingers in 57° water.
• The first tunas of the 2022 season were reported this week last year. Capt. Skip Daisey and the crew of the private boat "Take Em" took a chance and ran 71 miles to an eddy of warm water in 800 fathoms, southeast of the Poor Man's Canyon, almost halfway to the Washington. They returned to Harbour Island with a mix of 10 yellowfins and bluefins.

The big story of last week would of course have to be about sea bass. Opening day for the season in Delaware, Maryland and Virginia opened last Monday on the 15th. While you will see lots of knotheads in this issue, we did enjoy a diversity of fish from our inshore waters and the surf despite some rain and persistent winds! Several new Heaviest Fish for the season were also set. There are of course sea bass, but also for black drum and bluefish too.

While not an offshore event, I would like to highlight the Joe Morris Memorial Canal Flounder Tournament that was held last Saturday. Over 400 anglers participated in the this event raising a lot of funds and awareness for pancreatic cancer research. You can see the wining fatties on page 53!

Now to the offshore report. Normally opening day is a busy affair with what seems to be hundreds of boats fishing the near shore reefs and wrecks. Perhaps that it was a Monday or that the winds from the northeast were blowing, many reported that the sites were crowded but not as much in years past. Many reported 'sporty' weather even though several of the pictures in this week's edition make it look like it was a lake out there! It seems the bass too were a little less crowded. While there were plenty of reports of limit catches like the charter boats "Restless Lady II" with a 9 man limit of 135 fish, or the "Pole Dancer" returning to the Indian River Marina with 104 lbs. of the delicious fish, all reported having to wade through many smaller fish, especially in the morning hours. Capt. Chris Mizurak on the headboat "Angler" made several trips last week including opening day, and had to work at several sites and deal with the 'unders' each trip to find enough to fill the creel. One trip saw regular customer Howard Kelly snag a 4.25 lb. fish that put him on top for the Heaviest Fish for the season, however, that crown was passed only a few days later when Wayne Small from Southern MD reeled up a 21½", 5 lb. and 15 oz. beast while fishing on the headboat "Morning Star" with Capt. Monty Hawkins. That is going to be a hard one to beat! It is over a pound heavier than the Heaviest from last year.

The surf up and down the coast was still yielding some quality rockfish, but in fewer numbers as they are finishing their northern migration. The crew from "Bad Wind Charters" ditched the boat and fished off the sands of Assateague Island one morning last week and beached 3 nice stripers including at 32" keeper for Steve Goff before the new MD slot size regulations of 28"-31" went into effect. Note that in VA and DE the new regulation has not yet been enacted, so their 'slots' remain 28"-36" and 28"-35" respectively. We are anticipating those states to implement the ASMFC change in late June or by the July 2nd deadline.

There is much happening in the bays and backwater with good flounder, black drum, bluefish and tiderunner catches, so make sure to read our DE, MD and VA Fishing reports.

Lastly, our first offshore tournament is scheduled for this weekend. The 14th Annual Franky Pettolina Memorial Day Tournament held by the Ocean City Marlin Club is Saturday and Sunday with weigh-ins at Sunset Marina's Tournament Scales from 4:30 PM to 7:00 PM.
So until next time, I will see you at those scales! §

Upcoming Tournaments

• The first offshore contest of 2023 is scheduled for Memorial Day Weekend, May 27-28. The 14th Annual Franky Pettolina Memorial Day Tournament is sponsored by the Ocean City Marlin Club. Weigh-ins will be at Sunset Marina's Tournament Scales from 4:30-7:00pm each day. More at OCMarlinClub.com.
•The 2nd Annual Blues for DU is on tap for June 2-4 at Bahia Marina & Fish Tales. This bluefish tournament raises money to support the programs of Ducks Unlimited.
• The Annual Tuna & Tiara's Ladies Tuna Tournament returns for it's 3rd season on June 16 & 17 at the Ocean City Fishing Center. Scales are open from 4 - 7PM. Come by and check out the action and Mickey Fins!