Article by Christine Budd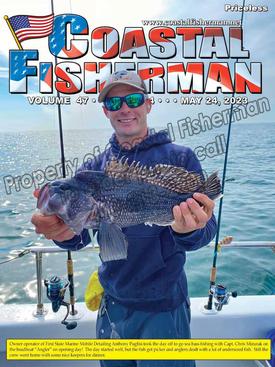 Pan Fried Sea Bass with Lemon Garlic Herb Sauce

Ingredients:
3 tablespoons butter divided
1 tablespoon extra-virgin olive oil
1.5 lbs. sea bass
1/4 cup all-purpose flour
1 teaspoon kosher salt plus more if needed
1/2 teaspoon black pepper plus more if needed
2 cloves garlic minced
1/4 cup dry white wine
1/2 cup chicken stock/broth or water, in a pinch
Juice of 1 lemon
1 tablespoon fresh oregano roughly chopped
1 tablespoon fresh thyme roughly chopped
1 tablespoon fresh parsley roughly chopped
Lemon wedges for serving optional

Directions:
Pat the fish dry with a paper towel.
In a shallow dish, mix together the flour, salt, and black pepper.
Dredge each piece of fish in the flour mixture, coating the entire surface, and shake off any excess.
In a large skillet, preferably stainless steel or nonstick, melt 1 tablespoon of the butter over medium high heat and add the olive oil.
Cook the fish in the skillet for 3-4 minutes on each side, until golden brown and fully cooked. Try not to move the fish too much, especially if you are using a pan that isn't nonstick, otherwise the fish may be more likely to stick to the bottom and not get browned as nicely.
Remove fish from the skillet to a plate.
Turn down the heat to low. Add the white wine to the skillet to deglaze, stirring up any browned bits. Continue heating until almost all the wine has evaporated.
Add one more tablespoon of butter to the skillet. Once it's melted, add the minced garlic and fresh herbs to the skillet and sauté until fragrant, about 30 seconds.
Add the chicken broth and bring to a simmer. If sauce seems very thin, continue simmering until reduced and thicker to your liking.
Turn off heat and stir in remaining 1 tablespoon butter and lemon juice. Taste and adjust seasoning if necessary.
Serve sauce on top of fish.

Bluefish with Beer Batter

Ingredients:
2 pounds bluefish
1 ½ cup flour
3 tablespoons baking powder
1 teaspoon salt
2 teaspoons lemon pepper seasoning
10 ounces beer
3 eggs, beaten

Directions:
Fillet and skin bluefish. Cut dark streak out of fish. Cut into serving size pieces.
Mix in bowl the flour, baking powder, salt, and lemon-pepper. Add beer and eggs to mixture, stir. Put fish in batter and let set for about 20 minutes.
Deep fry fish until golden brown. Leftover batter is great for frying oysters, without a fishy taste.

Panko Crusted Baked Flounder

Ingredients:
2 lbs. flounder fillets
½ cup Panko breadcrumbs
½ cup grated Parmesan cheese
1 ½ tablespoon extra virgin olive oil
Salt & pepper to taste
Lemon wedges optional, zest half your lemon if desired

Directions:
Preheat your oven to 425°F and pat the flounder fillets with paper towels to thoroughly dry all surfaces.
Place flounder fillets on a baking sheet covered with parchment paper and season with salt and pepper.
In a small mixing bowl combine the panko, parmesan cheese and olive oil until the breadcrumbs are slightly moistened. Sprinkle the panko mixture over the fillets.
Bake at 425°F for 15 minutes or until the flounder reaches desired doneness.
Remove from oven and serve immediately with lemon wedges.

One-Dish Rockfish

Ingredients:
5 cups fresh spinach
2 (6 ounce) fillets rockfish
10 cherry tomatoes, halved
½ cup vegetable broth
2 tablespoons minced fresh dill
½ teaspoon lemon pepper
¼ teaspoon garlic powder
¼ teaspoon onion powder
Salt and ground black pepper to taste
2 slices lemon slices
2 slices onion slices
1 teaspoon butter

Directions:
Preheat the oven to 400 degrees F.
Layer spinach on the bottom of a 2-quart baking dish.
Arrange rockfish on top and scatter tomatoes around the fish.
Pour in broth and season the fish with dill, lemon pepper, garlic powder, onion powder, salt, and pepper.
Place a slice of lemon and onion on each fillet; top with butter. Cover the entire dish with aluminum foil.
Bake in preheated oven until the fish flakes easily, 20 to 25 minutes.

Marinated Seared Ahi Tuna

Ingredients:
2 Tbsp regular strength soy sauce, or gluten-free tamari sauce
2 Tbsp freshly squeezed lemon juice
1 Tbsp Asian toasted sesame oil
2 tsp garlic powder
2 tsp granulated sugar
1 tsp kosher salt
1 tsp freshly cracked black pepper
2 ½ pounds fresh ahi tuna steaks, about 1 1/2 - 1 2/3" thick
3 Tbsp canola or vegetable oil, for searing
Optional: freshly chopped cilantro, green scallions, sesame seeds for garnish.

Directions:
In a bowl, whisk together the first 7 ingredients to make a marinade. Towel dry tuna steaks and place in a glass or ceramic dish. Pour marinade over the fish, turning to coat well throughout. Cover tightly and chill several hours to overnight; turn fish over at least once in the middle of marinade time.
Heat 3 Tbsp oil in a large heavy skillet – use aluminum or stainless steel; not nonstick, as it won't sear – until oil is smoking. Sear ahi steaks 1 1/2 minutes per side on high heat, taking care to flip carefully with a flat, steel spatula. (If your tuna is less than 1 1/2 inches thick, sear for only 1 minute per side.)
Transfer seared ahi to a large cutting board and let rest/cool 10 minutes. Use a very sharp (serrated works well) knife to slice thinly across the grain.
Serve chilled or at room temp. Sprinkle with sesame seeds and cilantro or green onions, if desired.

Manhattan Clam Chowder

Ingredients:
6 slices bacon chopped
1/2 cup onion diced
2 carrots peeled, quartered and sliced
1/2 cup celery sliced
2 teaspoons minced garlic
1/4 cup tomato paste
1/2 teaspoon dried thyme
1 bay leaf
1 pound Russet potatoes peeled and diced into 1/2 inch cubes
2 - 8 ounce bottles clam juice
2 cups chicken broth
28 ounce can diced tomatoes do not drain
10 ounce can whole baby clams drained
Salt and pepper to taste
2 tablespoons chopped parsley
Oyster crackers and cooked bacon for serving, optional

Directions:
Heat a large pot over medium heat. Add the bacon and cook, stirring occasionally, until crisp.
Remove the bacon from the pot and drain on paper towels.
Add the onions, carrots and celery to the pan. Season with salt and pepper to taste. Cook, stirring occasionally, for 6-8 minutes or until vegetables are tender.
Add the garlic and cook for 30 seconds.
Place the tomato paste, thyme, bay leaf, clam juice, broth and potatoes in the pot. Stir to combine. Bring to a simmer.
Cook for 10-15 minutes or until potatoes are tender.
Stir in the tomatoes and baby clams. Season the soup with salt and pepper to taste.
Simmer for 5 more minutes. Stir in the reserved bacon. Top with chopped parsley. Add oyster crackers and more bacon if desired, then serve.