Vol 43 | Num 4 | May 23, 2018

Ocean City Fishing Report
Article by Larry Jock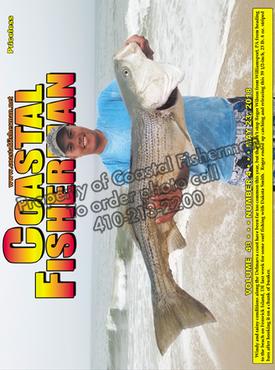 Last weekend was practically a 100% washout with the sun never appearing until mid-day on Sunday. The rain was so heavy and so prolonged that we saw flooding in areas rarely seen before and unfortunately it didn't bode well for water clarity in the bay. As a believer that "everything evens out in the long run", maybe this means we will have an extra good summer season!

With the minimum size increasing for mako sharks this year from 54-inches to 83-inches, it will be a rare sight to see one arrive at a local scale, but the first one was released on May 17th by Zach Rhoad while fishing at the Sausages.

There has also been a rumor going around the dock for several weeks that NOAA was going to possibly reconsider the dramatic minimum size increase and take it down to the low-70's. I guess the guys up in New York and New Jersey are really pitching a fit. It looks like if a change is made, it won't be until next year. A source at NOAA said that the emergency rule is in effect until August 29th. There wouldn't be any changes until then, and, for changes to occur, comments would need to raise issues/concerns that hadn't been considered in the rule and environmental assessment. Even if they were to make changes to the emergency rule, they would not reduce the size limit for females to 71-inches as the ICCAT recommendation doesn't allow for that. They hope to have the draft Amendment 11 out for public comment in late July or early August. That proposed rule could consider changing the size limit in the emergency rule, but even if it were the preferred alternative, it wouldn't go into effect until March 2019.

The sea bass season opened on May 15th, and a decent day allowed boats to hit their favorite ocean spots. It was hit-or-miss, with some boats reporting a slow bite and others returning with boat limits. Compared to last season's weak opening, I think most anglers were happy with last weeks bite. Most boats headed to the San Gil wreck, the Marine Electric and the Jackspot and used clams and squid for bait. Delaware anglers had good luck last week at the DelJerseyLand reef and the Dry Docks.

Before the tog season closed on May 16th, anglers were able to find some big fish on ocean structure such as Jim Papaccio's 28-incher at the African Queen.

Anglers continue to peck away at flounder, mainly in the Thorofare, when conditions are acceptable. Slow trolling or bump trolling has been the successful technique so far this spring. Some anglers have even equipped their boats with small trolling motors to assist them with this method. Local flounder sniper, Danny Cox caught a 22-inch, 4 lb. 9 oz. flounder early last week while fishing the Thorofare.

Fishing in the Ocean City Inlet and around the South Jetty has mainly produced catches of bluefish. Most were medium-size, but a few choppers were caught as well. Big Bird Cropper continued to terrorize the blues while tossing Roy Rigs around the rocks. Bird said that he had bluefish on top with schoolie stripers underneath.

Those looking to stock up on bluefish in the bay were able to also find them during the incoming tide around the Rt. 50 Bridge and in the East Channel.

Surfcasters continue to be frustrated with the lack of migrating stripers that hug the coast this time of year. Last week, those fishing off Assateage found some chopper bluefish, striped bass and black drum interested in their offerings of bunker, crabs and clams.

Upcoming Tournament

This weekend is the Ocean City Marlin Club Memorial Day Bluefish Tournament. Although it is billed as a bluefish tournament, there is a Heaviest Tuna calcutta with several levels. You DO?NOT have to be a Marlin Club member to fish in this tournament. Anglers may fish 1 of 2 days on Saturday or Sunday with weigh-ins at Sunset Marina from 4:30 to 7:00 PM.

Next weekend is the Mako Mania Shark Tournament on June 1st, 2nd and 3rd at Bahia Marina, a great place to get close to the action.

Until next week, I'll see you at the scales!