Ocean City Fishing Report
Article by Larry Jock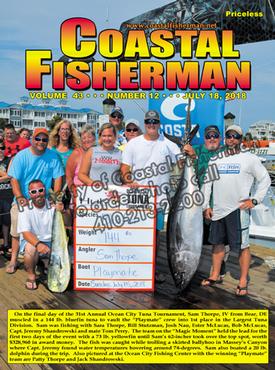 What a great week to be fishing out of Ocean City. White and blue marlin were caught in the canyons, dolphin are everywhere, yellowfins were numerous in the Washington Canyon, flounder are starting to snap on ocean structure and flatties were caught all over the bay. And that doesn't even count the excitement seen at the Ocean City Tuna Tournament over the weekend. We are heading into the heart of our fishing season and it looks like, weather permitting, it is stacking up to be a good one!

Ocean City Tuna Tournament

On pages 68 to 72 you will find complete coverage, including pictures of winners in last weekends Ocean City Tuna Tournament. This year there were 104 boats entered in the tournament, a significant increase from the 88 registered last year. We also saw prize money increase from $785,000 to over $857,000 this year.

We didn't see as many 5-fish stringers as I thought we would, considering the number of yellowfins we saw in the days prior to the tournament, but it was still an exciting 3-days at the scale and, as always, the last day didn't disappoint.

Marlin

We have to start this section off with the incredible catch last Saturday on the "Marlin Gale". Mark and Ken Steiding, Brandon and Gary Prettyman, Capt. Brandon Speilman and mates Aaron Greenberg and Ben Barwick racked up 5 blue marlin releases and a white marlin release while trolling in 200 fathoms between the Washington and Norfolk Canyons. Two of the blue marlins were in the 400 lb. range and the others looked to be between 250 and 300 lbs. To say this was an incredible day is an understatement and a day that I don't remember ever seeing, blue marlin wise, in all my years publishing the Coastal Fisherman. Congratulations to the entire "Marlin Gale" crew.

White and blue marlin were caught all over last week. We saw them come in from deep in the canyons and inshore of the Washington Canyon. On Sunday, "The Zipper" released a white and a blue deep outside the Poor Man's.

Tuna

Yellowfin tuna action centered in the Washington Canyon anywhere from 100 to 300 fathoms. The bite hasn't been as good as it was several weeks ago, as evidenced by the low number of 5-fish stringers we saw during the Tuna Tournament last weekend, but the size of the average fish continues to be impressive, falling in the 35 to 55 lb. range. We also saw some yellowfins inshore around the Hot Dog, Hambone and Massey's Canyon, a triangle that saw good activity during the 2017 season.

Bluefin tuna have been scarce, but we saw the 144 pounder caught in the tournament on the "Playmate" in Massey's Canyon. Also, as this report is being written on Monday, anglers on the charter boat, "That's Right" captured a 59-incher near Massey's Canyon.

Dolphin

Boats hitting the canyons in search of yellowfin tuna continue to return with loads of dolphin, although most are on the small side and caught while bailing with light rods. We did see several big, bull dolphin hit the scale this week led by Paul Lebling's 49 pounder caught while trolling ballyhoo in 150 fathoms in the Washington Canyon. Also in the Tuna Tournament, Charlie Gaskill caught a 42 pounder on a trolled, skirted ballyhoo on the East Wall of the Washington Canyon and Jason Goozh caught a 36 pounder in the Norfolk Canyon while fishing on the "Reel Chaos". Finally, anglers on the "All In" boated a 40 lb. bull in the Washington Canyon.

Sailfish

Last week, Mike Lowe on the "Canyon Hunter" was trolling ballyhoo in 100 fathoms in the Washington Canyon when he caught and released a sailfish that was estimated to weigh 70 lbs.

Cobia

We are starting to see a few cobia show up in local waters. Nicky Ferrara had an interesting catch when he ventured out on his fish-rigged jet ski and hooked a pair of cobia only 1-mile off the coast of Bethany, DE. Earlier in the week, Mitchell Clark on the headboat, "Judith M" caught a 31 pounder inshore of the African Queen. If you are heading in from the Bass Grounds or the canyons, keep an eye around Great Gull and Little Gull. We usually start to see cobia cruising the surface and they are typically interested in bucktails thrown their way.

Sea Bass

With sea bass fishing being hit-or-miss over the last few weeks, most inshore boats, including headboats, are flipping over to flounder fishing. We did see a good size, 4 lb. 5 oz. knothead caught mid-week by Tim Matteson while fishing on an artificial reef.

Triggerfish

Anglers looking for triggerfish are finding good numbers interested in their offerings of cut bait at Winter Quarter Shoal, Fenwick Shoal and Great Gull Shoal.

Red Drum

On Saturday, Dave Nies was surf fishing off Assateague Island when he hooked a 50-inch red drum on a strip of squid. Since you can only keep red drum that are between 18 and 27-inches, Dave's fish was released to live another day.

Flounder

Looking through the pages of the last couple of Coastal Fisherman, it is easy to see that flounder fishing this year has been good. Right now, the key is finding clean water, and on some days this can be quite a challenge. Capt. Nick Clemente on the "Get Sum" and Capt. Dave Caffrey on the "On the Run" have both put their anglers on some good catches of flatties and each will tell you that some days they need to hit multiple spots to get keepers in the cooler. The top spot right now is the East Channel, particularly near the old concrete plant just north of the Rt. 50 Bridge, but anglers are also having good results hitting the north end of the East Channel and up along the docks behind Harbour Island. We are also starting to see more fish being caught around the South Jetty and the bay behind the Ocean City Airport produced some good catches as well.

This season, the top bait, by far, has been a white 4-inch Gulp Swimming Mullet. We have seen this artificial bait take off over the last several years, but for some reason, this season it is really been the hot bait. Right behind it is the tried-and-true live minnow followed by a flounder pounder favorite of flounder belly. Sea robin strips are also a great, underrated bait to use for flounder in addition to strips of bluefish.

Over the last couple of weeks, we have really seen the flounder starting to move in to inshore structure. Many anglers who have been hitting the wrecks and reefs have told me that they see a dramatic improvement in this fishery. If you haven't tried fishing for flounder on ocean structure, you should really give it a try. First, spend the lousy $50 and join the Ocean City Reef Foundation. It will be the best "fishing" money you will ever spend since it gives you a book that contains the coordinates of their entire reef system. Getting out on these reefs and away from the thousand boats in the East Channel will give you an incredibly enjoyable day and you will wonder why you haven't taken advantage of it sooner.

In the Surf

As we usually find this time of year, there really isn't much to report from the surf. If you want to just bend a rod, there are plenty of sharks, skates and rays to keep you busy while soaking any type of cut bait. You may also hook into a kingfish, flounder or snapper bluefish.

Upcoming Tournament

This weekend is the world famous Ocean City Marlin Club Kid's Classic. Anglers can fish either one or both days on Saturday and Sunday with weigh-ins at Sunset Marina on Saturday from 3:00 to 6:30 PM and 3:00 to 6:00 PM on Sunday. If you have never "experienced" the Kid's Classic, you owe it to yourself to swing by the scale and see it for yourself. It is quite an event and you are guaranteed to leave with a smile on your face.

Until next week, I'll see you at the scales!