Vol 47 | Num 21 | Sep 21, 2022

Article by Larry Budd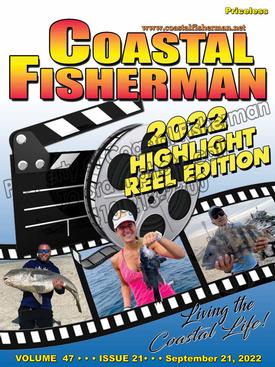 This Week Last Year
• Lots of bigeye tuna were being caught in the Baltimore Canyon with several boats catching pairs. The "Boss Hogg" caught a 209 lb. eyeball and followed that up a few days later with a pair at 177 and 202 lbs. The "Talkin' Trash" was one of a few boats that braved the weather later in the week and were rewarded with 2 bigeyes at 198 lbs. each.
• The marlin were biting in the Norfolk Canyon. The "Bar South" had a trip there and released 13 white marlin. The "Big Stick" reported 4 white released as well as a sailfish. The "Pumpin' Hard" had back to back trips where they went 4 for 5 on whites on both days.

The blow early last week must have done something. It was followed by beautiful weather and the offshore fishing has lit up! Most notable over the past week has been the bigeye tuna action as well as the swordfish catch.
Over the weekend we got several nice reports, mainly from the Washington Canyon of great trips on the rip. Friday saw the "Cabana" return from there with 5 swordfish on board! The weekend saw the "Restless Lady II" return to the Talbot Street Pier with 2 swordfish, some chunky yellowfin tuna and a mess of mahi. The "Boss Hogg" got on the meat as well catching a bigeye tuna along with a wahoo, mahi and tilefish on their trio Saturday. They were also in the Washington. No report this week would be complete without sharing the overnight trip last weekend on the "Instigator". When they returned on Sunday they unloaded 6 bigeyes with the largest at 243 lbs. As if that were not enough, they also caught 2 swordfish and a nice wahoo. That was a trip of a lifetime!
It is September and the marlin were cooperating, which was great given the slow season overall. The Washington Canyon was the spot over the weekend for them as well as with lots of boats reporting multiple releases. Both the "Seven" and "Showtime" came in with 5 release flags flying on Friday. Lots of over single reports for whites and a few blue marlins also came in.
Those looking for table fare were not disappointed either. The docks were covered in mahi. Capt. Joe Drosey on the charter boat "Rhonda's Osprey" reported one of the largest catches Saturday with just about 20 good sized dolphin and as many blueline tilefish. The "Primary Search" returned to Sunset Marina on Sunday with a 51" swordfish and over 150 lbs. of mahi.
It does however look like the wind will kick up thru Friday with Saturday potentially fishable before the wind comes back on Sunday. So far it looks like September fishing is strong, so get out there if you can!
This is also the last issue of the Coastal Fisherman for the 2022 summer season, so we once again highlight the summer that was. While in general the offshore fishing was challenging to say the least, there were still many great catches and stories, so we hope you enjoy a small recap.
I would also like to take a moment to thank all the people who make the Coastal Fisherman possible. Our graphic artist Tom Jock is much more than that and not only lays out the paper each week to ensure a good balance of advertising and content, but also designs and updates weekly most of the advertisements and info graphics you see in the paper. My wife, Chef Christine works every week to curate interesting recipes with an eye to what is currently being caught. In addition she and her 'gal pals' Fran Kern and Brenda Hossick along with a host of others hold court each week to process and mail the paper to our many subscribers. Thanks also to our contributors Mark Sampson and Steve Katz. Week in and week out they work to inform and entertain us. And of course what would the paper be without fishing reports. Capt. BJ Pietryak keeps his pulse on the inshore and bay action for Maryland and Delaware so we know the hot spots and tackle. New for 2022 was the addition of Capt. Matt Abell from SeaHawk Sports sharing the action from the Virginia peninsula. It has been a great addition!
Of course the biggest thanks go to our advertisers, readers and those who share their catches and stories with us weekly. The paper would simply not exist without all three of these groups. So as always we ask our readers to support our advertisers and to keep sharing what we all love about the coastal lifestyle!
Next up for us is the Big Winter Edition that we publish in early January, so keep sharing your fall fishing action as well as any action from trips south for the winter months! §

Upcoming Tournaments
• Old Inlet Bait & Tackle hosts the Delaware Seashore Fall Surf Fishing Classic on September 24th & 25th. This event offers over $15,000 in cash and prizes and the very coveted bronze trophies! More at OldInlet.com
• The last offshore tournament of the year is the 3rd Annual Rena Bishop Broadbill Bash that will be held from October 13th thru 16th. This event raises awareness and funds for the Burbage Regional Cancer Care Center. The primary focus is on swordfish, but also has calcuttas for Heaviest Tuna and Stringer. Weigh ins are held from 5:30PM to 8:30PM at Sunset Marina's Tournament Scale located behind Sunset Grille. More at ocbroadbillbash.com.
• The Lewes Harbour Marina will hold its month long Tautog Tournament from October 22 to November 20. For more info call (302) 645-6227.