Vol 43 | Num 11 | Jul 11, 2018

Ocean City Fishing Report
Article by Larry Jock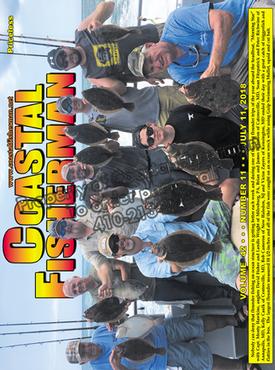 It was almost a complete blowout last weekend. Heavy storms rolled through on Friday afternoon and Saturday and Sunday saw cooler weather that brought along some windy conditions. This kept 99.9% of the offshore boats at the dock on Saturday and Sunday, but some headboats were able to get out and needed to stay closer to shore. Bay anglers got some time in over the weekend, but the wind made it tough and many cut their trips short. It was nice to get some relief from the seriously hot weather we have been having but I wish it would have come without the wind.

Flounder

Anglers searching for flounder are finding conditions right, both in the bay and on ocean structure.

In the bay, flounder snapped pretty good at several locations around the bay. The key was finding clean, cooler water and a good drift. With water temps in the upper 80's, now is the time to find those deeper, colder holes.

The bay behind Assateague Island continues to produce some of the top catches of keepers and last week the best bite was right behind Castaways Campground. We also saw good catches come in from around the South Jetty (an underutilized flounder fishing location), the East Channel near the old concrete plant and further north along the docks surrounding Harbour Island where anglers on the charter boat, "Get Sum" put 5 in the box as this report was being written on Monday.

Flounder fishing on ocean structure has also been steadily improving. Little Gull Shoal, the Bass Grounds and the Old Grounds all provided anglers with good catches of larger fish.

The best baits this season have been white Gulp Swimming Mullets, followed by live minnows and now, live bunker. Castnetting peanut bunker in the local marinas will provide you with plenty of bait for a day of good flounder fishing. Anglers fishing on ocean structure have had the best results using extra-long strips of squid and flounder belly.

Inshore Shoals

Rough seas on several days last week kept boats closer to shore, but it looked like it worked out well with a good variety of fish ending up in the fish box. From the looks of it, there were plenty of triggerfish snapping on cut bait in addition to Spanish mackerel, snapper bluefish and flounder. Anglers on the charter boat, "Over-Board" hit the 1st Lump and caught Spanish mackerel, bluefish, 2 good size king mackerel and a couple of bonita. We also saw a good catch of 6 flounder, up to 22-inches, and 30 triggerfish come in on July 4th by anglers fishing at Little Gull Shoal aboard the "Benadiction".

Marlin

Fortunately, some of the slack from slow tuna fishing was taken up by a good white and blue marlin bite in the Washington Canyon last week. The icing on the cake were the number of anglers who caught and released their first white marlin, including many junior anglers such as Cutter Stanton, Logan Hudson and Jaycey Miller on the "Buckshot".

Tuna & Mahi

Last week tuna fishing was disappointing, but with warm 81-degree water throughout the canyons with no temperature breaks, it was understandable. The good news is that the yellowfins that we are seeing have been impressive in size with some reaching the high double-digits in weight.

Most of the action has been in the Washington Canyon and around the 800/800. We also saw a few come in from around the Bigeye Hole as well. The "Hammer Down" had a couple of good days, going 9 for 10 on yellowfins very early in the week in the Washington Canyon and following it up with 5 in the Wilmington Canyon on Thursday.

On Wednesday, we saw an impressive 64-inch bluefin tuna caught in 30 fathoms outside the Hambone by Mike Mewshaw and his crew.

Throughout the week, we really saw a good number of mahi caught anywhere from deep in the canyons in shore to the 30 fathom line. We also saw a few really good size mahi, including the 43 pounder caught on Friday by Darryl Johnson on the "Talkin Trash" while fishing outside the Rockpile.

Sea Bass & Tautog

It would be safe to say that sea bass fishing is disappointing right now. Anglers are still able to boat a few on ocean structure, but it's a struggle. As a result, most headboats are flipping over to fishing for flounder with good success.

No doubt that water temperature is playing a role in the slow sea bass bite. Interestingly, a diver told us that they recorded water temperature at 41-degrees at a depth of 100 feet. Everyone is hoping that last weekends windy weather will stir things up.

Tilefish

We continue to see more and more anglers learn the intricacies of tilefishing, resulting in more bluelines and goldens ending up on the dock. Jennifer Taylor caught a 20 lb. golden tilefish in the Baltimore Canyon early in the week and anglers on the "Clear Shot" returned with an impressive catch of 34 bluelines caught on squid in 54 fathoms in the Baltimore.

In the Surf

Surfcasters continue to do battle with sharks, skates and rays but they have also found some snapper bluefish and flounder interested in offerings of clams, squid and cut bait.

Upcoming Tournament

This weekend is the famous Ocean City Tuna Tournament at the Ocean City Fishing Center. The tournament is Friday, Saturday and Sunday with weigh-ins from 4:00 to 8:30 PM on Friday and Saturday and 4:00 to 7:00 PM on Sunday. Last year, over $785,000 was paid out and the scales are always exciting.

Until next week, I'll see you at the scales!