Vol 43 | Num 21 | Sep 19, 2018

Article by Capt. Franky Pettolina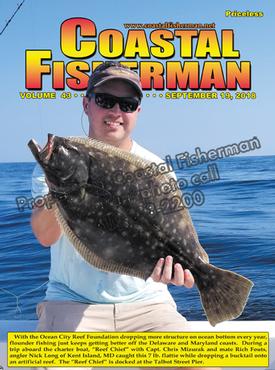 It doesn't seem that long ago that I was talking about the fishing rods leaving my garage and the fact that I actually went fishing last winter. Yet, POOF! Another season of the Coastal Fisherman is falling into the prop wash and drifting behind me. Like that country song says, "Don't Blink". Yes that's right, I know some country songs too, not just metal (although I was at an Ozzy concert last night).

The summer of 2018 had its ups and downs for me. The "Last Call" had some mechanical issues in the early going that frustrated me a bit. We won some mahi money. A fair number of anglers caught their first white marlin from my cockpit. I watched a man with limited use of his arms and confined to a wheel chair catch multiple fish on an electric reel combination that he designed himself. My Dad now believes in aliens and their involvement with our fisheries. The Hong Kong Chef restaurant in Caraballeda, Venezuela closed its doors (I wonder if the resident mouse population has fled that socialist mess for the better life in the good old US of A too). I got my first trophy as an angler in a tournament (2nd place angler overall, top points angler for the Ocean City Marlin Club in the recent OCLTC versus OCMC Shootout). As a whole there were many more smiles than frowns.

In the bigger picture I truly feel that Ocean City had a good season. The tuna fishing left a little bit to be desired during the middle of the season, but there were plenty of other sea creatures to make up for it. The tournament season was relatively controversy free. Fish of decent size, or quantity, took the top spots in just about every tournament. There were some huge payouts, and entry numbers were good when the weather was pretty. Charter boats seemed to be running regularly. The docks were pretty busy. And I know we were all thankful for it.

There were some pretty unique things that happened during the summer of 2018 too. The most interesting to me was the amount of cobia that were caught in our bay. I don't ever remember a cobia getting much inside the inlet, let alone up into the bay itself before this summer. Maybe we have a new fishery being born. It has happened with other species in recent years (puppy drum and sheepshead come to mind). The quantity of barracuda caught was also amazing to me. One, maybe two per season was all that I can ever recall. This summer it was one or two per week, sometimes more. That had much to do with warmer water temps throughout the summer I would guess, but again, who knows. Species change their range in cycles. Maybe we will be seeing expanding fisheries in our area.

The proposed wind farm off our coast was also a hot topic. I have tried to stay pretty neutral on the subject. To be honest I don't think there are any solid answers to the questions. There is data out there to support arguments for and against the structures. My commercial fishing friends are very concerned about the potential effects on the fishery and the environment, which could directly hurt their livelihood. The recreational fishing community is pretty split on the subject. Some folks think the new structure will make for hot new fish habitats. Others are worried that the construction methods will scare the fish away for a while and that in the future there will be the likelihood of restricted areas around the wind farm. Again, no one seems to be able to give a hundred percent answer to any of these concerns. The other thing is that no one can produce any solid data that these things work or don't work. I have sat in meetings with wind farm advocates and in meetings with wind farm opposition. What I would really like to see, and I am putting our local government officials on blast here, is a meeting with the wind farm companies (Skipjack and US Wind) represented, local commercial and recreational fishermen represented, and local businesses and the public allowed to attend as well. Windmills off our coast are potentially life changing for our community and we just don't know if it will be in a good or bad way. Come on Mayor Meehan and Ocean City Town Council. You owe us this. Please make it happen.
I also got some really cool news this summer. This next bit is a potential spoiler for my Coastal Fisherman Winter Issue column. Somebody is getting to go back to the Great Barrier Reef off of Australia in November to target black marlin. That's right mates! This bloke is headed down under to the Land of OZ!!! My good friend Brooke, his grandson Andrew and I will be chasing the big blacks for a week with Capt. Ross Finlayson. Ross is a well known "big fish" guy and hopefully I will be telling a "Big Fish Story" this winter!

Yup, just like that twenty one more marbles have left my jar and they definitely left faster than last year. I wish I could slow these summers down. Hopefully, you have enjoyed my stories this season as much as I have enjoyed writing them. I would like to thank Larry and the rest of the Jock family for welcoming me into the fold again this year. Enjoy the fall fishing season everybody and be safe out there. Talk to y'all in a few months!

Capt Franky Pettolina is Co-Captain of the charter boat, "Last Call", owner of Pettolina Marine Surveying, Inc. and multi-term President of the Ocean City Marlin Club. To book a trip on the "Last Call", call 443-783-3699.