Vol 47 | Num 2 | May 11, 2022

Article by Larry Budd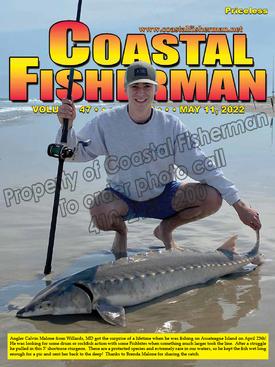 This Week Last Year
• The story for this week last year was warming weather bringing out the flounder and rockfish. Tog was still working but anglers needed to work a little harder to lure these fish out.
• Offshore waters remained cold with only a handful of boats heading truly offshore to the canyons. One was the "Hot Lick" from Sunset Marina. They made a long run to the south to the Norfolk Canyon and caught the first bluefin tuna for the season in 1000 fathoms.
• The water warmed and cleared up and the flounder started snapping! In Delaware, the Lewes Canal was the hot spot. The Thorofare was the spot in OC. The "Get Sum" had a party of 5 that were only 1 short of their limit bringing back 19 keepers!

This spring has felt more like the opening of a now famous novel quote;
"It was a dark and stormy night - except at occasional intervals, when it was checked by violent gusts of wind..."!
It feels as if the wind has been blowing since last September and last week was no exception. The weekend through the middle of this week were a washout, however, anglers who were able to get out at the end of last week found some success offshore, and by offshore we mean right off the coast! Assateague Island on both the Maryland and Virginia parts were still active with black drum, however not at the levels of prior weeks. There was still plenty of action though with many large stripers being caught in the over 45" range. A little further out several headboats like the "Judy V" at the Indian River Inlet, the "Angler" at the Talbot Street Marina and the "Morning Star" at the Ocean City Fishing center were having success at wrecks and reefs with tog.

We did have some notable catches over the past week. One is on our cover, a 5 foot shortnose sturgeon that Calvin Malone caught while fishing for drum and stripers on Assateague. This is a rare and endangered fish in general and even more rare to see this far north. Given the size, that fish could be 30 years old! Calvin got a quick pic with the fish in the surf and then back in surf it went! Further north saw a new pending Delaware State Record for tautog. Capt. Brent Wiest on the "Katydid" boated a huge 20.48 lb. fish beating the existing record set in 2005 by 3 ounces. Like the sturgeon, that size tog is over 20 years old. Nice catch by both!

The water offshore remains cold and most of the battlewagons are in their slips or even on the hard. Their crews though are hard at work finalizing prep work or even undertaking major renovations of mechanical, cabin and cockpit enhancements. So if you are looking to book a charter this summer, there are lots of nice choices.

We expect the offshore action to pick up starting next Sunday, opening day for sea bass. The current forecast is for temps in the 60's and fair winds, so it should be a good day! Other captains are looking a shark trips looking for threshers and potential a mako before their ban takes effect in June sometime.

As a wrap up I want to thank all the readers who liked our Dock and Dine maps in last weeks issue, we will be reposting those periodically over the summer season. That idea came from a reader! This issue has a photo about how to properly measure a flounder, another idea from a follower on Facebook. If you have some ideas for content, please share them with us at CoastalFisherman@comcast.net or on social media and as always keep those catch pics coming!

Upcoming Tournaments

- The Lewes Harbour Marina hosts the Joe Morris Memorial Flounder Tournament to benefit the Pancreatic Cancer Action Network. This one day event on May 20th is focused on fishing in the Lewes Harbor. Details at LewesHarborMarina.com.
-Old Inlet Bait & Tackle hosts their Cast for a Cure Team Surf Fishing Tournament on May 21st to benefit the Tunnell Cancer Center Special Needs Fund. More at OldInlet.com.
- The first offshore tournament of the season is the 13th Annual Frankie Pettolina Memorial Day Tournament. This two day event is May 28th & 29th. Details at OCMarlinClub.com.