Vol 47 | Num 2 | May 11, 2022

Article by Capt. Matt Abell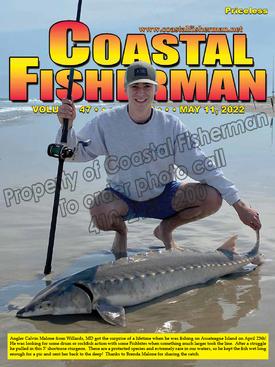 Wow, what a challenging week to find success on the end of your line. The windy, unsettled weather has certainly added an aspect to our sport that allows us the opportunity to remind ourselves that the chase is just as important as the trophy. However, even with these metaphoric sandbars placed in our channel, there is still great fishing to be had!

The Lower Maryland portion of the Chesapeake has provided good action on trophy rock as anglers soaked hard to find peeler chunks in sheltered shallow waters. Along with a supersized striped quarry, there's been some good opportunities on bull reds as well as illusive speckled trout to round out a possible Tangier Sound Slam!

The lower Chesapeake and adjacent inlets have seen some of the same weather related constraints as the rest of us. I spoke to Chad Parks from Earnings Stripes Sportfishing yesterday. Chad reported that reds and blacks are still biting on crabs and clams. Anglers have been forced to focus their efforts on more shelter areas like Oyster and inside Machipongo Inlet. When the threat of wind and waves allowed, the shoals of Fisherman's Island have produced both red and black beauties along with some pretty rockfish which must be released until the middle of the month (but still a lot of fun). The biggest surprise was while fishermen braved the elements in search of tasty togs, they were rewarded with some nice sheepsheads. Capt. Kenny Eshleman seconded the excitement in regard to these unexpected early arrivers. He has spent this week on a quest for backwater reds to sight cast. Cloudy water was his main hurdle, however, the image of a big red taking your bait right before your eyes makes hours of relentless searching wash away like the tide.

The Virginia Barrier Islands from Chincoteague to Quinby are still producing decent flounder fishing even though the water has been fairly turbid. The fish continue to focus in on white, chartreuse and pink double rigs tipped with a combination of Gulp and minnows or silversides. The tide has not been as much of a factor as it was last week, the fish seem to be most active when the water conditions allow for improved visibility. Remember... if you can't see your prop, then the environment may not be conducive for good flounder fishing. Sea Hawk served as the weigh station for the Russ Gordon Memorial Flounder Tournament. The fishing was better than expected with several quality fish registered. Miss Diane Whiteside took home top honors with a very respectable 5 ½ pounder. The proof is in the muddy water, patience and determination will pay off with good memories that will last longer than the longest stormy weather. The surf has still had a few black drum and some stripers that will go on to battle in the wash another day.

Earlier this week I had the opportunity to go fishing just for a little while just for fun. The weather was threatening, and the wind was blowing. But most importantly, the fish where biting. They weren't trophies by the definition that we have all come to expect, but they were some undersized fat, healthy rock along with a couple of quality specs. While these fish were not monsters to sit around the bar and brag about, they were undoubtedly FUN! Sometimes we forget that we all are bound to this sport in pursuit of enjoying some of what God has blessed us with. So don't worry about the weather and get out and enjoy this awesome place we call home.