Article by Mama Jock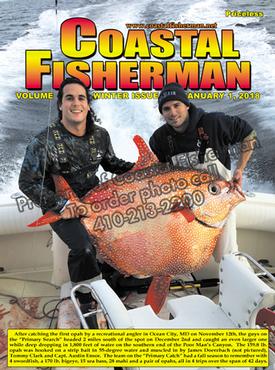 Flounder Cerviche
Submitted by Capt. Matt & Skipper Noah

Petite diced jalapeno
Petite diced red onion
Petite diced cucumber
Finely chopped green onion
Finely chopped cilantro

Add all of the above ingredients to 1/4 lb. of fillet of flounder cut in large dice.

Add the following ingredients to the flounder mixture:

Juice of half of lime
Juice of quarter of lemon
2 dashes of soy sauce
Dash of Old Bay seasoning
Salt and pepper, to taste

Lightly stir all of the ingredients.
Place in covered glass bowl for 15 to 30 minutes.
Serve as appetizer.

Hot and Sour Tuna

1/4 cup olive oil
2 medium onions, thinly sliced
2 jalapeno peppers, deveined, seeded and minced
1 lb. tuna steak
Flour for dredging
Salt and pepper to taste
2 TBSP. red wine vinegar
1/3 cup dry white wine
Minced parsley for garnish

Heat the oil in a covered 12-inch nonstick skillet over medium-low heat.
Add the onions and jalapenos and cook, stirring occasionally until the onions wilt.
Remove from the pan.
Dredge the tuna in flour and raise the heat to high.
Brown the tuna on both sides in the same skillet, about 4 minutes.
Return the onions and peppers to the pan and add the salt, pepper, vinegar and wine.
Cover, turn the heat to low and cook 5 minutes.
Remove the tuna and reduce the sauce if necessary.
Spoon the sauce over the tuna, garnish with the parsley and serve.
Serves 2-3.

Marinaded Mahi-Mahi

1/4 cup olive oil
1/2 cup red wine
2 TBSP. lemon juice
1 TBSP. balsamic vinegar
1/2 cup minced parsley
2 tsp. dried oregano
1/2 tsp. salt
1/2 tsp. white pepper
1/4 tsp. red pepper flakes
4 mahi-mahi fillets

Thoroughly combine the first nine ingredients.
Place the fillets in a bowl or large ziploc bag and cover with marinade.
Pour the marinade over the mahi fillets.
Press out the air and seal the bag.
Refrigerate 30 to 45 minutes.
Preheat the broiler.
Place the fillets in a broiling pan and broil for 3 to 4 minutes.
Turn fillets over and, spoon some additional marinade on top.
Broil for 2 to 3 minutes more until lightly firm.
Serves 4.

Asian Style Striped Bass

4 TBSP. sesame seeds
2 tsp. minced garlic
6 scallions, minced
2 tsp. sesame oil
2 TBSP. soy sauce
1/2 tsp. cayenne pepper
Salt
Black pepper
4 striped bass fillets
6 TBSP. peanut or vegetable oil

Toast the sesame seeds in a dry pan over medium heat, shaking occasionally until they darken and begin to pop. This usually takes about 5 minutes in an oven or 2 to 3 minutes in a microwave.
Mix half of the sesame seeds with the garlic, half the scallions, the sesame oil, soy sauce, cayenne, salt and pepper.
Coat the fillets with this mixture and allow them to sit while you heat the oil.
Heat the oil in a 12-inch nonstick skillet over medium heat until it shimmers.
Carefully add each fillet.
Cook until lightly browned and cooked all the way through.
Cook and brown the other side.
Serve immediately after garnishing; serve with reserved scallions and sesame seeds.
Serves 4.

Pineapple Fried Rice with Shrimp

1 lb. peeled and deveined shrimp
2 garlic cloves, grated
1 inch piece ginger, peeled and grated
1/4 tsp. black pepper
3 tsp. vegetable oil
2 large eggs, beaten
2 cups pineapple chunks
1/2 lb. green beans, cut in 1-inch pieces
3 cups cooked brown rice
2 TBSP. less sodium soy sauce
3 scallions, sliced
1/4 cup roasted unsalted peanuts, roughly chopped

Toss together shrimp, garlic, ginger and pepper.
Heat 1 tsp. of oil in a skillet over medium-high heat.
Add eggs and cook, stirring until scrambled and cooked through, 1 to 2 minutes, set aside.
Wipe skillet clean, add 1 tsp. of oil and increase heat to high.
Add shrimp and cook, stirring occasionally, until opaque and pink, 3 minutes; set aside.
Wipe skillet clean and heat the remaining 1 tsp. oil over high.
Add pineapple and beans and cook until crisp-tender, 2 minutes.
Stir in shrimp and eggs and cook to reheat.
Remove from heat and stir in soy sauce and scallions.
Serve topped with peanuts.
Serves 4.

Striped Bass in Yellow Curry

1 cup unsweetened shredded coconut
2 cups boiling water
5 TBSP. vegetable oil
1 lb. striped bass fillets, cut in chunks
Flour for dredging
2 cups sliced onion
1 tsp. turmeric
1/4 tsp. cayenne pepper
1/2 tsp. ground coriander
1/4 tsp. black pepper
Salt to taste
2 TBSP. fresh lemon juice
Minced cilantro for garnish

Put the coconut in a blender.
Cover with water and blend.
Let rest for a few minutes.
Heat 3 TBSP. of oil in a 12-inch skillet over medium-high heat until it is hot.
Dredge the bass chunks lightly in the flour and cook quickly until lightly browned, 3 to 4 minutes.
Remove fish with a slotted spoon and set aside.
Add the remaining oil to the pan and cook the onion, over medium heat, stirring occasionally, until very soft and beginning to turn brown, about 10 minutes.
Stir in the turmeric, cayenne, coriander, pepper and salt.
Cook for 2 minutes.
Strain the coconut milk and add the liquid to the onion mixture.
Bring to a boil over medium heat and reduce by about third.
Add the fish, reduce the heat to medium and cook for about 5 minutes.
Add the lemon juice and garnish with cilantro.
Serves 4.

Shrimp and Broccoli Casserole

12 oz. package egg noodles
1 lb. fresh broccoli crowns
1 cup baby carrots
1 small onion, chopped
2 TBSP. olive oil
1 lb. medium-large raw shrimp, peeled and deveined
1 can condensed cheddar cheese soup
1/2 cup chicken broth
2 TBSP. minced parsley
1 cup bread crumbs
1/4 cup melted butter

Cook noodles according to package directions; drain well.
Over medium-high heat, sauté broccoli, carrots and onions in oil.
Add shrimp.
Cook until shrimp turn pink. Do not over cook.
Combine shrimp and vegetable mix with noodles and pour into buttered casserole dish.
Heat cheese soup, broth and parsley together.
Pour over casserole and mix gently.
Top with bread crumbs.
Drizzle with the melted butter and bake at 350-degrees for 20 to 25 minutes.
Allow to stand 5 minutes before serving.
Serves 4-6.

Cajun Tuna Steaks

1 lb. bag frozen corn
2 TBSP. butter
2 cloves garlic, minced
1/2 cup chopped green bell pepper
1/2 cup chopped red pepper
1/2 cup chopped onion
1 large tomato, seeded and chopped
1 tsp. sugar
1/2 tsp. salt
1/2 tsp. pepper
1/4 tsp. cayenne
1/4 cup half and half or milk
Hot pepper sauce to taste
1/2 cup melted butter
1 tsp. each dried thyme, garlic powder, paprika, cumin, salt and pepper
4 tuna steaks

Pulse corn briefly in food processor until coarsely chopped.
Melt the butter in a pan.
Sauté corn with garlic and vegetables for 7 minutes.
Add the sugar, spices and milk.
Cover and simmer for 20 minutes.
Stir hot sauce into the butter and brush over the tuna.
Combine all the spices and dust tuna liberally.
Heat a heavy-bottomed skillet until very hot.
Sear tuna for 1 to 3 minutes per side.
Let rest 1 minute; slice and serve over the vegetables.
Serves 4.

Crab-Stuffed
Fish Fillets

2 slices white bread (crust removed), torn in pieces
8 oz. crabmeat, cleaned well
1 tsp. minced chives
1 TBSP. prepared horseradish
1 TBSP. mayonnaise
Salt and pepper to taste
12 thin lemon slices
4 fish fillets of your choice
1 TBSP. light olive oil
Lemon pepper

Pulse bread in food processor until fine.
Mix the bread crumbs with the crabmeat, chives and horseradish.
Add mayonnaise to bind; season with salt and pepper.
On an oiled pan, lay the lemon slices in 4 rows of 3, not overlapping.
Divide the stuffing and mound on the middle slice of each row.
Mold the fillets over the stuffing and secure with toothpicks.
Brush with oil, season with lemon pepper.
Broil until fish is cooked through and golden, about 5 to 7 minutes.
Serves 4.

Grilled Flounder and Summer Squash Packets

1/2 cup extra-virgin oil, plus extra for drizzling
2 shallots, sliced thin
Salt and pepper
1 lb. yellow squash, sliced 1/4-inch thick
12 oz. plum tomatoes, sliced 1/2-inch thick
1/4 cup capers, rinsed
4 skinless flounder fillets. 1-inch thick
2 TBSP. minced fresh parsley

Spray centers of four 18 x14-inch sheets of heavy duty foil with vegetable spray.
Microwave oil, shallots, garlic, 1 tsp. salt and 1 tsp. pepper in a small bowl until garlic begins to brown, about 2 minutes.
Combine squash, tomatoes, capers and garlic oil in a large bowl.
Pat fish dry with paper towels and season with salt and pepper.
Divide vegetable mixture evenly among centers of each piece of foil.
Top vegetables with fish and then top fish with lemon slices.
Bring short sides of foil together and crimp to seal tightly.
Crimp remaining open ends of packets.
Grill packets over hot fire, squash side down until fish is cooked through and vegetables are tender, about 10 minutes.
Let rest for 5 minutes.
Cut packets open, sprinkle with parsley and drizzle with extra oil.
Serves 4.

Beer-Battered Onion Striped Bass

1 cup flour
1/2 cup shredded cheddar cheese
1/2 cup chopped onion
1 1/2 tsp. baking powder
1 tsp. Old Bay seasoning
1/2 tsp. salt
1/2 tsp. pepper
1/4 tsp. cayenne
1/2 cup beer
Oil for frying
2 lbs. striped bass fillets

Combine the first 8 ingredients in a bowl.
Slowly add the beer until a thick batter is formed.
Heat 2-inches of oil in a dutch oven or heavy stockpot to 375 degrees.
Rinse and dry fillets.
Dip in batter and carefully lay fillets in oil.
Fry a few pieces at a time, maintaining temperature, until golden.
Drain on a rack and keep warm in a 200-degree oven until all pieces are done.
Serves 4.

Oysters Provencal

1/4 cup extra virgin olive oil
4 large thick slices peasant bread
4 cloves garlic, peeled and crushed
2 large shallots, minced
1 large green pepper, chopped
4 Roma tomatoes, seeded and chopped
2 medium zucchini, chopped
2 tsp. fresh rosemary or 1 tsp. dry
1/4 tsp. salt
1/2 tsp. black pepper
1/4 cup rose wine
1 pint oysters in their liquor

Brush 2 TBSP. of the olive oil over the bread.
Broil or pan sear the bread until nicely toasted.
Rub each slice all over with a crushed garlic clove.
Mince crushed garlic and sauté in olive oil until softened.
Add the next 7 ingredients and cook for 5 minutes.
Add wine and simmer for 3 minutes.
Stir in the oysters and liquor.
Cook until the edges ruffle.
Adjust salt to your liking.
Place a piece of grilled bread in a shallow bowl.
Spoon oysters and sauce over the bread.
Serves 4.

Oven-Barbecued
Shrimp

2 lbs. jumbo shrimp, shell on
4 TBSP. butter
2 TBSP. olive oil
1 TBSP. minced garlic
1 TBSP. Worcestershire sauce
1 tsp. hot pepper sauce
1 TBSP. black pepper
1 1/2 tsp. dried Italian seasoning
1/2 tsp. paprika
1/8 tsp. cayenne pepper
1/ lemon, sliced thin

Dry the shrimp and place them in a large baking dish.
In a saucepan, melt the butter and oil and add the next 7 ingredients.
Pour the seasoned butter over the shrimp.
Add the lemon slices and stir thoroughly to coat.
Bake in a preheated oven at 400-degrees for 15 to 20 minutes until shrimp are pink and tails curled.
Serve in shallow bowls with warm crusty bread for dipping.
Serves 4-6.

Crab Balls

2 eggs, mix well
1 TBSP. mayonnaise
2 tsp. mustard
6 saltines, more or less, crushed
1/2 tsp. Old Bay
Salt and pepper to taste
1 lb. jumbo crabmeat

Mix all ingredients except crab.
Add the crabmeat and shape into golf ball size balls.
Fry in small amount of oil and serve with tartar sauce or condiment of your choice.
Serves 4.