Article by Capt. Mark Sampson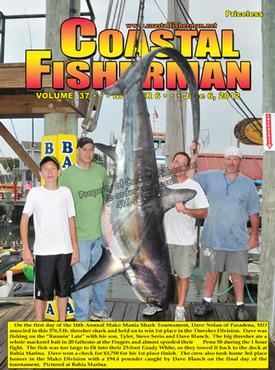 The Hotdog, Hambone, Twin Wrecks and the Baltimore and Washington Canyons are just a few of many well known and popular locations for offshore fishing. Over the years, all of these places have contributed in some way to help build the reputation of Delmarva's waters as a prime destination for world-class fishing. There are so many places to fish, and every season there's a re-shuffling of the deck as the action at last year's hot-spots dry up and the best bites shift to different shoals, drop-offs or canyons. "Fishing is fishing", and just as there are no guarantees that they are going to bite on any given day, there are certainly no assurances that they'll be in the same place tomorrow as they were ten years ago, or even last season.

Of all the famous places scattered across an offshore fishing chart, none of them rival the history and reputation of the shoal that lies about 20 nautical miles southeast of Ocean City's Inlet and is known as the "Jackspot". Surrounded by 85-115 feet of water and rising to within 50-feet of the surface, the depth changes at the Jackspot create increased current flow and upwellings that attract both predator and prey of all sizes and species. Just a few miles to the northeast and a few more miles to the southeast is the 20-fathom line that is so often used as a travel highway for game fish on their annual migrations, and the Jackspot's close proximity has made it a great rest-stop and smorgasbord along the way.

These days, when billfish are thought of as mostly "canyon fish", it's probably hard to comprehend that the Jackspot is a big reason why Ocean City is known as the "White Marlin Capital of the World." But back in the 50's and 60's it was the place to go if you wanted to tangle with a white or blue marlin. In fact, back then, a trip to the Jackspot was considered a "long run" because those fish were also routinely taken on the Bass Grounds and even as close as Great Gull Shoal, a scant 5-mile run.

The Jackspot was the billfish hot-spot for a lot of years, but by the 70's its reputation shifted to becoming the place to go to consistently troll-up a catch of big bluefish. Though marlin were still caught on the Jackspot, hooking one became a tough thing to do with so many schools of hungry blues waiting to swarm on and shred every marlin bait that hit the water, prompting bill-fishermen to push farther offshore and leave the Jackspot in their wake as they looked for water with hungry marlin and less bluefish.

Even though it was no longer a destination for billfish, the Jackspot was far from being down for the count. Bluefish remained strong throughout the 80's and 90's, but anglers found that if they trolled a little faster they could avoid a few of them and have a decent chance of hooking into a tuna, dolphin, bonito or king mackerel.

For a lot of years the "Spot" held the reputation for being one of the hottest places to be on the East Coast to hook a tuna and boats routinely traveled all the way from Indian River and Cape May to get in on the fun. During the 90's when chunking was king it would not be uncommon to see as many as 200 boats anchored on the shoal trying to land a limit of bluefin and yellowfin tuna.

Even after the mother-load of tuna shifted their residence to the Hotdog and Hambone, the Jackspot continued to provide anglers with consistent summertime action with king mackerel, bonito, bluefish, false albacore and dolphin. Recently king mackerel and big bluefish have been scarce, but bonito and dolphin have continued to keep fishermen happy, and in September false albacore have been showing up on the shoal, making for some of the best light tackle action on the East Coast.

As if all that wasn't enough, as a part of the Ocean City Reef Foundation's network of artificial reefs, the Jackspot has been the recipient of many barge loads of subway cars and other reef building material making it a destination point for bottom fishing as well.

Maybe compared to some points in history, the action on the Jackspot has been rather pale lately, and consequently there hasn't been many anglers fishing it. But in just the few days I fished there last season we caught sea bass, jacks, bonito, false albacore, sharks, bluefin tuna, dolphin and bluefish, and I'm looking forward to giving the old shoal a good working over again this year. While I don't expect we'll catch any marlin, I'm sure we'll find plenty of "something" prowling about that will make for some great fishing and pleasant memories of the good-old-days!

By the way, while this has nothing to do with the Jackspot, now that the makos are running I just wanted to point out that NMFS has a neat website that allows anglers to log-in their mako releases and get their catches listed on an online chart. Anyone can go to the chart and see their own catches as well as those listed by other anglers up and down the coast. There's also a lot of good info about the biology and life history of makos. There's even an Android app for the site that lets anglers log-in their fish from their smart phones. But don't worry, even though the program asks for the coordinates where the sharks are caught, they don't post the numbers on the chart. They only put a pin in the general area - so your secret hotspots are safe! The website can be accessed at www.nmfs.noaa.gov/sfa/hms/index.htm.

Captain Mark Sampson is an outdoor writer and captain of the charter boat "Fish Finder", docked at the Ocean City Fishing Center.