Vol 37 | Num 6 | Jun 6, 2012

Article by Larry Jock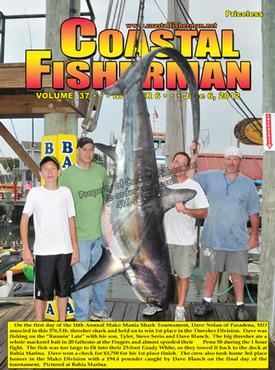 From talking to tackle shop owners, I'm hearing that Fin-Nor is really coming out with some impressive new products that are priced right.

The first Fin-Nor big game reel was produced in 1933. Renowned angler and collaborator on the reel design, Tommy Gifford, proceeded to catch a 527 lb. bluefin tuna at Cat Cay on the reel and the Fin-Nor Company never looked back, now holding over 380 world records.

The company is now owned by the W.C. Bradley corporation, owners of other brands such as Van Stall, Quantam PT and Zebco.

Although I haven't tested the reel myself, Capt. Bruce McGuigan at Capt. Mac's High Performance Tackle in Fenwick Island, DE is really singing its praises. "This is a well made reel with a very strong drag system. It is also priced very competitively when compared to other company's reels," said Capt. Bruce.

Fin-Nor's new Inshore series reels are built for anglers who like to use braided line for close-to-shore fishing.

The reel features:
•a lightweight aluminum body and side place
•a cold-forged aluminum spool
•5 double-shielded stainless ball bearings
•MegaLokTM Infinite anti-reverse
•Sealed water-proof drag
•Multi-stack carbon fiber MegaDragTM

The MegaDragTM system creates drag between 18 and an incredible 25 lbs.

One additional feature that we are starting to see in many inshore spinning reels is the ability to tie braided line directly on the spool, eliminating line slippage. You don't think it is much, but if you are like me and had your braid start slipping during a fight with a nice size striper, you wish your reel had that feature.

The Fin-Nor Inshore series comes in 4 models. All have a 5.2:1 gear ratio with "inches per turn" retrieve rate ranging from 28" to 36". The M.S.R.P. on all four models is $129.00.

I am a long time fan of Costa sunglasses. I love their styles, the clarity of their lenses (especially the 580 lens) and their customer service in case something goes wrong.

Costa has partnered with country music star, Kenny Chesney, to come out with five handcrafted Kenny Chesney Limited Edition Costa sunglasses. Each pair features Kenny's signature and unique hand-drawn artwork etched into the side of the frame.

The five styles are the Caballito, Hammerhead (my favorite), Howler, Little Harbor and Rincon.
In addition to your glasses, you receive a sunglass case, hat, sunglass strap and a cleaning cloth.
A portion of each sale goes to the Coastal Conservation Association. This is the second year of the program which raised more than $50,000 for CCA in 2011.

Depending on the style and lens selected, the kits retail between $129 and $199. Check with your local tackle shop for availability or go to www.costadelmar/shop/kennychesney.com for more information.